Run and Measure Social Media Campaigns in 7 Easy Steps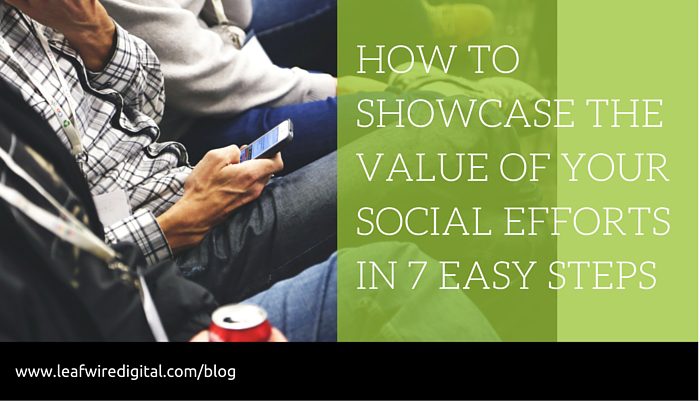 In this blog I will show you how to run and measure social media campaigns in a few easy steps.
Measuring the ROI of social media is the biggest challenge for 60% of marketers, according to a survey conducted by TrustRadius late last year. 50% of the survey respondents listed tying social activities to business outcomes among their primary challenges. Most likely, the reason behind these roadblocks is the fact that 80% of marketers measure social media campaigns based on generic KPIs like retweets, likes, mentions, and followers, without providing relevant business context.
This infographic, created by HubShout, offers more details on the statistics gathered by the survey.
< title="How to measure Social Media Campaigns" src="https://s3.amazonaws.com/marketingsupport/social-media-stats-2015.jpg" width="635″ height="3520″ alt="infographic showing what metrics to apply to your social media campaign performance measurement"/> Social Media Campaign Metrics
Why Businesses Need to Measure Social Media Campaigns
If your business is relatively new to social media, your organization is probably having a hard time evaluating your social activities' direct or indirect contribution to the company's business goals.
And for you as a marketer, it is probably challenging to figure out how to tie generic social metrics such as Shares, Favorites, Replies, Likes, and Clicks to business outcomes that prove that what you are doing is really relevant and of value to the company.
In result, senior management is likely to be unwilling to commit more budget and resources to growing this viable digital marketing channel and your company is missing out on a lot of opportunities to connect with prospects, influencers, and brand supporters that could amplify & speed up your growth efforts.
The value of social media lies in its unique ability to offer immediate, very cost-effective, and targeted reach & interaction opportunities. As an example, if you go on Twitter and type in the search bar a keyword that is of interest to you, you will get plenty of profiles of people/organizations that are either offering or interested in products and services related to this keyword. What you can do as a next step is immediately follow them, add them to a list for further engagement, or even send them a @tweet and start a conversation. No other digital marketing channel has that.
So, the best way to prove the value of your social media marketing efforts is to run a multi-channel campaign and then compare the outcomes in your reports.
Here is a quick and easy recipe that you can implement to showcase that what you are doing for the company is really great.
1. Plan to promote a few pieces of valuable content
Put together a simple plan to develop a campaign that will promote a couple of content pieces (exclusive white papers, e-books, e-guides, a demo, etc.)  that users can access by providing their email addresses + other key info in an online form. It is important that these content pieces are gated (the links to these assets should not be freely accessible to the general public via your website or other channels. Users can only receive access to them if they fill out an online form).
2. Prep your landing page, thank you page, and asset download setup
Once you select your content assets, make sure they are posted on the web. If you are using your company's document repository, just save them there. If you don't have a repository, you might want to leverage Amazon web services, Google drive, Box, or any other cloud solution that will allow you to manage your assets easily and securely.
Next, create landing pages for each of your assets. It does not matter whether you decide to go with a blog post format or a stand-alone landing page. It is important to have a welcoming page that explains why your asset is valuable to your target audience and how they can get access to it. It needs to feature an online form asking visitors to provide their email address, phone number, company name, etc. You have to pair it up with a "Thank you" page – the place where those who have completed the online form will receive access to your content asset. This page will point your users to the URL address, where the content piece can be found.
It all seems like a lot – content pieces, storage, landing pages. The reality is that you can launch a campaign like that in  a couple of days or less. Scroll down to see my wix landing page – I built it in 5 minutes, absolutely no HTML or programming skills were needed.
Nowadays, there are plenty of fremium tools that will enable you to create landing pages in no time. A few that you might want to consider if you are not using a marketing automation suite like Hubspot or Marketo (they come with a landing page module), or if your blog isn't built on Wordpress (Wordpress lets you create pages in addition to blog posts) include:
Lander.com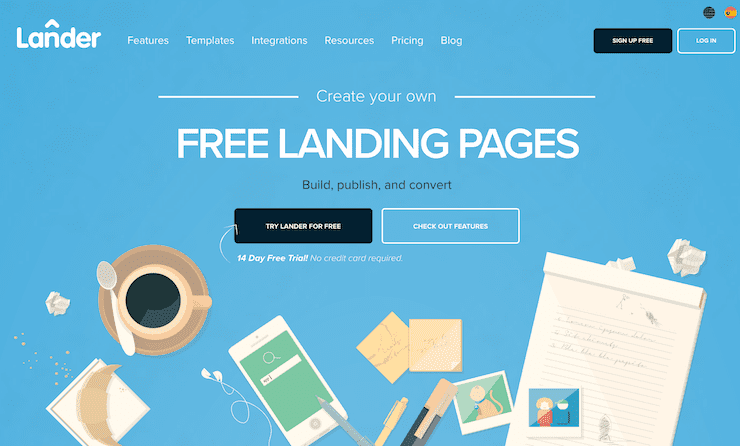 Wix.com – below is a landing page that I built in less than 5 minutes as an experiment. It features a pre-built slideshow, which is great, especially if you are looking to increase conversions.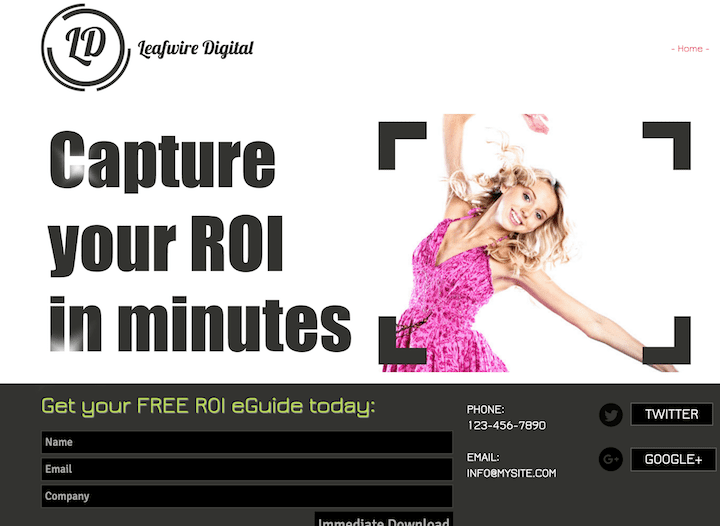 3. Select your promotional channels & dedicate a hashtag for your social promotion
Once your landing pages are in place, plan to promote them across several channels, for example:
On your website (banners on the home page and a few other top visited pages)
On your website search results pages (Google offers a customized search engine for your website with plenty of options to leverage it to promote your content to your visitors)
Via email (send an email to your customers and prospects and don't forget to leave room for likes/RTs in your email content)
Paid advertisement via banners on other websites, communities, or using Google Adwords
Organic LinkedIn posts
Promoted LinkedIn posts
Organic Twitter/Facebook posts
Promoted Twitter/facebook posts, etc.
It is advisable to use a campaign hashtag. This step has numerous advantages – from letting you have a transparent picture about your campaign popularity and performance, to setting up your reports.
4. Set up your tracking URLs & goals
Make sure that you add tracking parameters that would enable you to report how well your campaign is performing on every channel/platform. If you are not familiar with Google URL builder and how it helps you generate special tracking parameters for your advertising URLs, you can find more information here.
Why set up campaign tracking
Marketers generally use tracking URLs because they want to monitor how much traffic was generated by Twitter vs Email vs banners or other channels so that they can understand which platform resonates better with their audiences.
If your managers want to know how many visitors filled out your online forms, and where they came from, then setting up tracking parameters for your advertising links is the right way to go because you will be able to report on all of this and much more.
This step is key in proving the value of your social media efforts. It will enable you to measure your social media campaigns in a way that will set them apart and will highlight how they are driving meaningful outcomes for the business. Because social media channels will almost always attract and drive the largest number of new visits, you will be able to prove how important Twitter, LinkedIn (or any of your other social platforms) are for building awareness and spreading the word about your company and its products/services.
Set up "Goals" for your landing pages.
Google offers a detailed step-by-step tutorial on how to do that here. The purpose of setting up a goal is to ask your analytics tool to track and register the number of form fills. This way, Â every time someone fills out a form, it will be recorded as a "success" or as a "Goal" that has been reached. This setup is extremely handy because it saves a lot of time during the reporting phase of your campaigns.
5. Build your promotional schedule
Create your promotional calendar to make sure you can manage effectively all the moving pieces of your initiative and your budget. If you want to run a 3-week long promotion, for example, it is important to publish social media posts that advertise your content multiple times on a daily basis. This is especially valid if your audience is international – whether you are promoting via Adwords or LinkedIn, making sure that all your targeted time zones are covered is important for our success. If you are not sure which time zones to cover, a good way to start measuring that is to use a tool like Followerwonk, provided by moz.com.
You should not be repeating the same tweets and posts, at least not within 3-6 weeks. Instead, read through your assets carefully and try to prepare about 20-30 varied tweets/posts for each content piece, trying to sell its benefits in creative and convincing ways.
If you are wondering how to write so many tweets/posts to promote one e-book, you might want to read this blog by buffer.com, where they give you really great tips on how to create awesome social media posts every single time.
Don't forget to leave room for A/B testing in your calendar to make sure that you are constantly reviewing how your campaign is doing and improving your promotional copy. You should be able to measure your success as soon as you launch your campaigns (for example, if no one engages with your posts, you will know right away that some improvement in the copy is needed).
6. Launch, monitor, improve on the go
Once you are ready to launch, monitor performance constantly and be ready to tweak and improve things as you go along. Remember, don't wait until the campaign is over, make changes and updates as soon as you receive relevant feedback via your online reports.
7. Report your successes
Building a report that will showcase the value of your social media efforts could be a challenge. Mostly because as you start working on it, you will see that so much data is simply hard to get with just one tool. You will almost always need multiple providers to help you look into and report different metrics that matter.
Regardless of what tools you are using, you need to have a stable framework that will enable you to build a strong case and provide a great point of reference in addressing why social media is really valuable to your business. Here is how to start building your framework and what to keep in mind when doing so: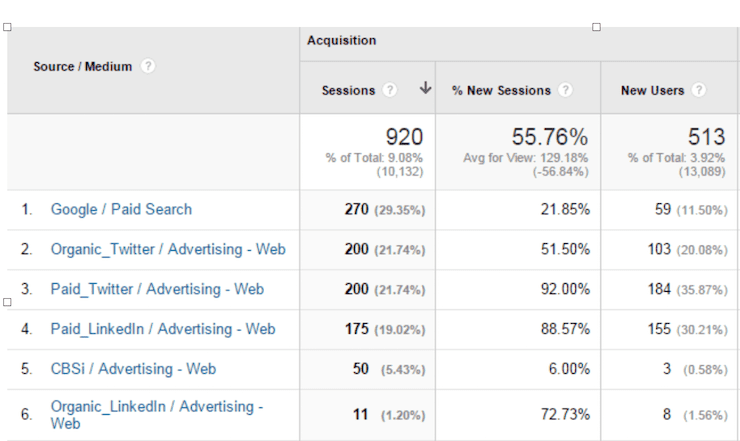 1. Gathering your social media campaign metrics from Google Analytics (or your tool of choice)
In Google Analytics, go to the Acquisitions>Campaigns module and look up your campaign. Thanks to the tracking links that you set up, you will have clear metrics relative to the total traffic that was sent to your landing pages. You can dig deeper to see how each channel performed in terms of your main KPIs, including traffic size, form fills, new visitors, etc.
If your social media channels brought a fraction of the visits compared to the rest, focus on the percentage of new visits – that's where you will most likely win. Make sure you compare the new visits results with the rest of the channels and highlight the relevant data accordingly. Chances are your social posts have brought the largest number of new visitors to your sites as a percent of all visits.
If your social media channels brought a fraction of the form fills or "Goals", focus on comparing acquisition costs. Social campaigns are inherently cheaper than PPC and display ads. Because of that, the value that they create is much higher than the rest of your promotional venues. The difference in the cost per click can be huge. Keywords on Google Adwords can cost anywhere from $9 to $25 per click and above whereas Twitter or Facebook could charge as little as $0.29. And a click does not guarantee that a "Goal" will be reached. If you generated 10 form fills from social media at the cost of $40 and 30 form fills from PPC at the cost of $350, you can argue that by putting more money into social, you can drive more cost-effective conversions.
Compare conversion rates across all channels and use the data together with cost per click to calculate which channel is more profitable or more cost-effective. Although email and Search Engine Optimization tend to rule here, almost always, social channels will come out as the next top performer in the category.
2. Why Likes, Retweets, Mentions, and Replies are Outcomes, not KPIs and how to convert them into metrics that make sense to the business
While your analytics tool will provide you with a way to measure traffic to your websites as well as conversion rates, you still have a lot of ammunition left – and you must use it in order to showcase the entire net worth of your work.
Using basic metrics exported directly from the social platforms' analytics modules is what 80% of social marketers use to report on their campaigns. Â Unfortunately, many of these stats are outcomes, they are not really KPIs. The trick to making them meaningful to the rest of the business is to tie them to the sales and marketing funnel.
The way to do that is to combine these basic metrics with more powerful tools, which are similar, but not limited to keyhole, twitterreach, trusocialmetrics, or hashtagifyme. Then, put together a meaningful story that your superiors can understand and relate to:
Instead of reporting "retweets" and "impressions", talk about generating awareness on your social platforms. Present your report in terms of how far your campaign tweets traveled, how many accounts saw the campaign, what exposure it got. Talk about reach/exposure and support that with hard data:

Reach can be broken down into:

Number of followers who saw your tweets/posts
Potential accounts, including your followers and the people who follow them, that saw your tweets/posts (much bigger number than the one above) once your tweets/posts got retweeted/shared
Potential accounts that saw your tweets when people mentioned you or liked your social post
Your hashtag position and popularity, i.e., if you are promoting your campaign on the #socialmedia hashtag, you can easily quantify your presence, as well as your influence on this particular hash.
Instead of listing "clicks" and "likes", talk about favorability, consideration, and leads/conversions. Discuss how many people were influenced enough to take a meaningful action as a result of your campaign, like how many started following you, how many added you to their influencer lists, or promoted your content by sharing or responding to it.

Wrap up metrics like "likes", "mentions", and "list additions" under the favorability umbrella as that measures how much your brand/product is liked or favored by your target audiences.
Refer to the social traffic to your web properties as consideration, because that's the part of the marketing funnel they belong to – these visitors are potential buyers who are trying to see if there is a match between what you are offering and what they need.
When talking about conversions, do clarify that there could be different conversion types:

Follower conversions: to convert  people who viewed our profile and posts into followers – goal: ZY number of followers
Video views: To get  X number of people to watch our videos
Whitepaper consumption: To get Z number of people to read our content
Form fills: To get XY umber of people to fill out an online form, etc.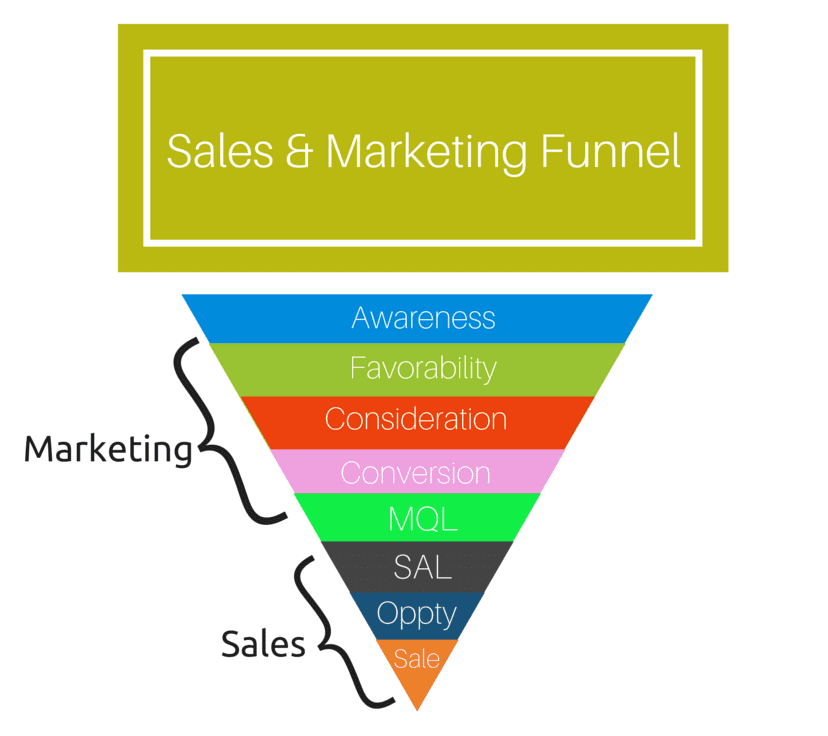 Last but not least, you might want to use this campaign measurement framework, discussed by Avinash Kaushik in his "Best Social Media Metrics" blog. It focuses on measuring social media campaigns in terms of amplification, applause, conversation, and economic value. In it, Avinash spends a good amount of time explaining in detail what these KPIs mean and how to connect them to your company's bottom line. He also offers an excel spreadsheet that lets you automate the calculation of these metrics.
Conclusion
The key to proving the ROI of social media in a way that will enable you to shine and get broader budgetary commitment from senior management is to measure effectively your social media campaigns – every single one of them.
Hopefully, the 7 steps that I shared with you will facilitate this process for you and will empower you to get the buy-in and support you need to make more investments in social and drive more results, faster.
As always, very happy to chat, so please drop me a comment or send me an email at milena@leafwiredigital.com with any questions.