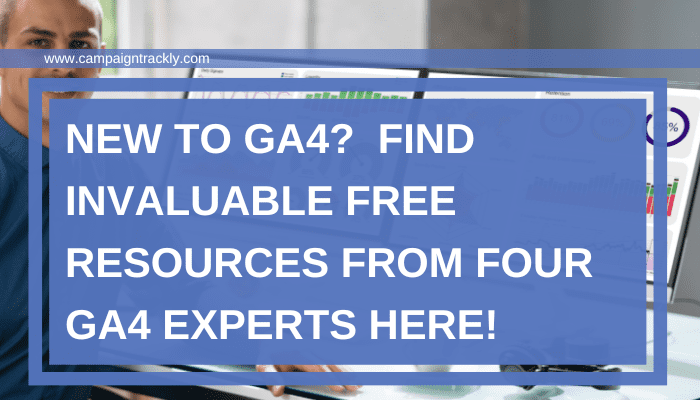 FREE GA4 Resources from the Top Four Experts in the Industry
In this blog I will share GA4 resources from the four top Google Analytics experts in the industry.
Get ready and confident using these select Google Analytics 4 guides and how-to resources these experts have to share with you.
Why You Need GA4 Resources
With only 3 months left before Universal Analytics shut off, now is the time to find reliable GA4 resources and understand how to transition your marketing reporting strategy fast. The new platform is quite different from what we are all used to working with and both goal setting and reporting have a somewhat steep learning curve.
GA4 Gives You More, But Change Doesn't Come Easy
Google Analytics is aggressively pushing its large community of users to transition to its new, next generation analytics property, GA 4. With over 4.2 million users and a sizable share of the web analytics market (>35%), Universal Analytics has been adopted by many organizations, so this transition is bound to be a bit laggy and tough – change is always challenging and takes time.
While there are a lot of businesses that have the budgets and resources to outsource or manage the transition on their own, a big chunk of Google Analytic's customers will need all the help they can get to understand the whys and hows of this process to be able to set up GA 4 successfully.
These Four GA4 Experts Have Reliable Advice For You
So here are the four top GA experts who are ready to help you transition to your new Google Analytics platform with their hard-earned knowledge and who have done an amazing job of preparing for you some of the best resources available on the web. (And for the record, I did check out quite a few blogs out there, including annielytics.com, Justin Cutroni, and Avinash Kaushik's Occum razor as well – and I am sorry to repot that they have not as of yet shared anything on GA 4).
1. OptimizeSmart.com, led by my all-time favorite GA expert, Himanshu Sharma.
Himanshu has written so many books and has consulted so many companies, including Merck Animal Health during my time there, that he has an amazing and well-oiled process of onboarding and servicing his clients. His team produces great results and has the knowledge and skills to carry out small and big projects.
Here is Himanshu's latest guide on Google Analytics 4 – you can access it online for free here.
Pros:
So much knowledge shared for FREE
Really good historical context
In-depth explanation of the advantages of the new property
Awesome overview of the new features vs the ones we all have with Universal GA
Great overall primer to the new property and why we need to move
If you stay long enough on the site you also get an offer for a free 126-page complete guide on GA 4 and all you need to do is provide your email address
Guide comes with an offer for a detailed eBook that will help you set up your GA 4 correctly.
Cons:
While the author is sharing a lot of resources, the format might be a bit overwhelming making it look very hard to master GA 4.
Alas, no freebies on how to set up GA 4 – you have to buy the book
Would have been great to have a series of short videos to help users whose main learning media is video.
2. Analyticsmania.com, led by another all-time favorite expert of mine, Julius Fedorovicius.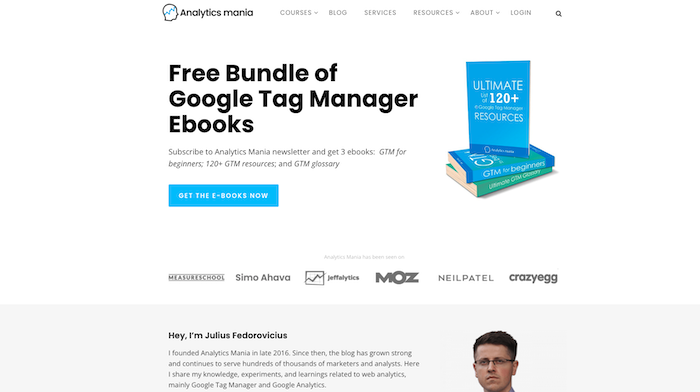 Analytics Mania has been around since 2016 and Julius has been very active in sharing his analytics and Google Tag knowledge by founding a Facebook community, building an excellent Google Tag Manager fundamentals course, and publishing several ebooks.
First off, Julius gives you a free GA 4 transition ebook and all he asks for it is to share your email. He also makes it sound really simple, since the book is titled "Migration to GA in 8 steps".
Pros:
The book is a 26-page "hands-on" check list with todos, planning advice and preparation details – I found it to be a very helpful resource
It is set up in a really nice PDF document that you can download and use as a reference while working on your transition process
It does make it really bullet-proof and easy to transition to GA 4. Julius has paired it with a nice email series that provides hands-on tips as well.
If you need to get extended information on GA 4, Julius has a number of blog posts on his site dedicated to specific features, which makes it easy to search by business need.
Julis also has videos for those of us who might have learning disabilities or specific media preferences.
For those of us searching for a paid and well-defined training course – Julius also has that prepared for you and available here.
Cons:
The book does not provide historical or contextual background and assumes that you do not need any introduction to GA 4 because you know what you are doing
Would have been nice if the book had a consolidated set of links to all the rest of resources regarding GA 4, so that users could have a central "GA 4" knowledge center from where they could cover all areas they need to know about
The paid course requires a bit of an investment and might be cost-prohibitive for some users, although the author is offering a creative payment plan option to address that.
3. Lovesdata.com, led by Benjamin Mangold, an award-winning course, book, video and blog writer and Google Analytics expert.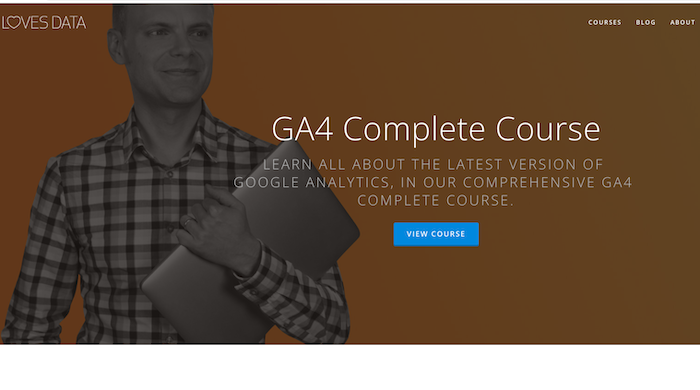 Benjamin offers a paid course – actually, two – a mini and a complete guide on GA 4. The complete course has a well-detailed curriculum and provides clear guidance on the educational goals, content and outcomes.
Pros:
A very well organized course with nicely outlined curriculum
This is a proper training setup – comes packed with videos, quizzes, private discussion forums and a certificate
You know what you are getting into when you pay for this course thanks to the clear list of topics provided
Has 6 fundamentals-focused and one advance section
In addition to the course, you can use a lot of the free blog posts outlining specific GA 4 topics and watch the free videos
Cons:
The actual organized training on GA 4 requires payment and it is tough to know up-front if it will fit your GA expertise level and needs.
Would have been great to have a centralized page with all GA 4 free and paid resources organized in one place to help streamline the learning process.
4. Online-metrics.com led by Paul Koks, a Google Analytics expert whose blog has been around since 2011 and has grown to have over 30,000 subscribers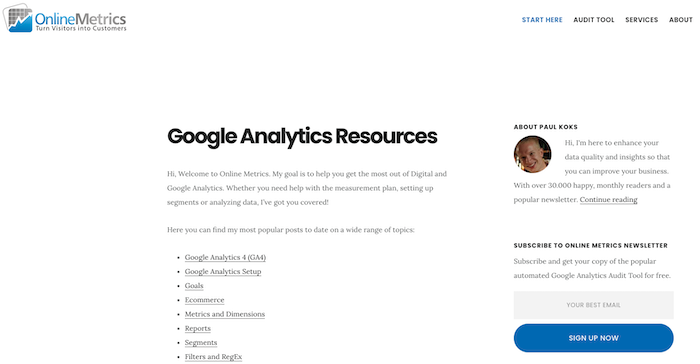 I really like Paul's problem-solving style to presenting his content in his blog. His entire website has been created with the reader/customer in mind.
I love that he actually does have a GA 4 dedicated learning place and although he does not follow the conventional norms of presenting his knowledge to you – you will be hard-pressed to find a "blog" menu item on his site, for example – you can actually start learning right away by clicking the intuitive "start here" button.
Pros:
One central learning place that is easy to always go back to
16 blog posts that provide a very unique and results-driven way of presenting to you the GA 4 transition task
If you are a marketer – you will be happy because there is a dedicated blog written with you in mind, yay!
There is a blog that helps you connect to Google Studio as well
There is a free audit offer, which sounds like an amazing opportunity to leverage an expert's knowledge, for FREE!
Cons:
Would be great if one is able to download something that one can keep and refer to when needed as they work their way through the move.
The blogs are very well structured and content-rich. They each have a table of contents connecting to each key section. But they are are, well, long:). To simplify the user experience and help users feel less pressured by the process, perhaps, pagination or quiz breaks could optimize these near-perfect resources.
Would be great if the resources are paired with a simple checklist that tells us what needs to be done as a minimum to get us going.
Conclusion
I shared with you my view of the top four experts who have posted amazing and extremely valuable content that will be able to carry you through the process of moving from your current property to the new, next-generation GA 4 platform. Would love to hear your point of view and happy to reflect it here.
I have tremendous respect for these Google Analytics experts, as well as the time and effort they put into preparing these resources and making them available to us. I think all of their knowledge is precious and will be extremely helpful to anyone who decides to embark on GA 4's exciting journey. With all this great content, if I had to pick favorites, I would probably go with:
Thank you and anything that I might have missed – will be very happy to add!
Tags: Google Analytics, Google Analytics 4, Move to Google Analytics 4, Top Google Analytics 4 Resources
Are you looking to set up a best-in-class link tracking strategy to drive digital marketing ROI? Try our digital platform, CampaignTrackly.