About us
Mission
Our mission is to help you make better marketing decisions by enabling you to drive higher quality data into your analytics tracking program in a productive and cost-effective way.
"Analytics and reporting is an integral part to delivering successful marketing campaigns and I know first-hand how stressful and inefficient manual UTM tagging and URL shortening can be. The CampainTrackly app brings together marketing and software automation to provide a simple, cost-effective way to track and monitor the success of campaigns."
Why Us
Whether you are an absolute beginner in digital performance tracking or an advanced digital marketer, CampaignTrackly can help automate your tracking processes, so that you can:
minimize the time needed to prepare your analytics tracking links and
focus more on generating business for your company.
Watch this 30-second video to see how you can make better decisions and save time with CampaignTrackly:
Why with CampaignTrackly You Will Never Under-report Your Hard Work
With CampaignTrackly, you can make your Analytics Tool smarter with just a few clicks,
You can eliminate error-prone typing thanks to our tagging pre-set libraries and Chrome extension,
Because it has the ability to pre-save all your custom and standard UTM codes, CampaignTrackly prevents accidental use of duplicate or incorrect UTM parameters and has a very positive effect on your reporting bottom line.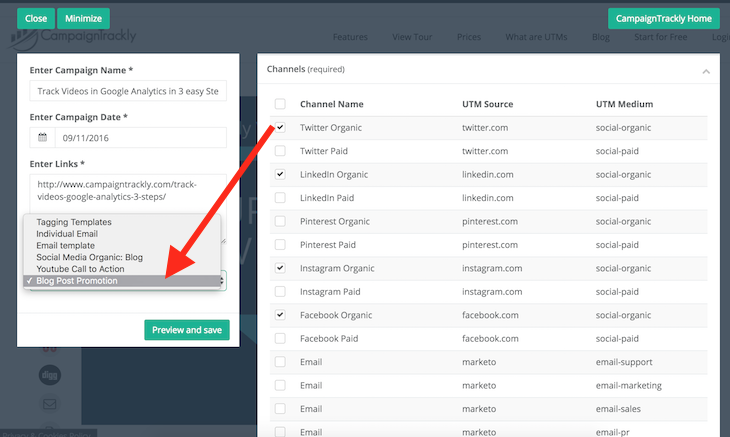 You will find that it is extremely easy to integrate CampaignTrackly in everything you do – because our Chrome extension is right in front of your eyes you always remember to tag and track everything and never miss a link!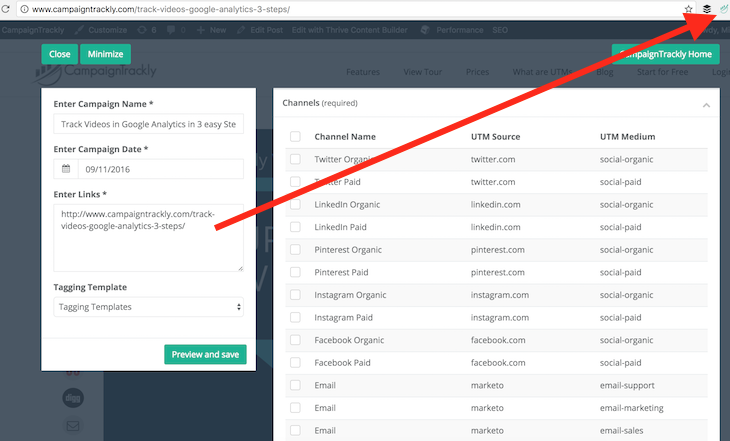 Even bulk processing is done quickly thanks to CampaignTrackly's ability to handle 1, 10 or 100 tracking links in one go!
You can store all your campaigns for as long as you want and always go back to review their performance or re-use the tracking links.
About CampaignTrackly and RoadMap
CampaignTrackly is a SAAS (Software as a Service) that constantly evolves to meet your growing campaign ops management needs
The platform was started in 2014 with a limited number of subscribers and was officially launched in 2016. It is one of the earliest platforms offering link tracking management automation.
Although we have a team behind the platform's development and growth, the SAAS is officially owned by Leafwire Digital, LLC.
Leafwire Digital was established in 2014 in Cambridge, UK as a marketing automation consultancy, offering process adoption, asset optimization, complex nurture campaign implementation, and operational setup of marketing automation software for medium-to-larger-sized businesses.
The company became a player in the Link Management Software Market when it started developing its link tagging and management platform in 2014. After numerous iterations and improvements, the company officially launched its link management software under the working title Campaigntrackly (http://www.campaigntrackly.com) in 2016.
The platform was started with a limited number of functions, including UTM-only tagging automation wizard that also shortened links via the Bitly and Google Shortener applications.
Based on the positive response and interest by many large players who requested a significant amount of improvements and enterprise-level features, the software was upgraded and in the next years saw significant improvements in stability, number of automation functions and more.
Today, the platform has over 1800 business subscribers – from single users to large teams that track links for over 100+ Google Analytics accounts.
The SAAS is currently at CampaignTrackly v7.3, launched in January 15, 2020 and will continue to add new features for our users – we have an exciting great product roadmap in store! Get in touch with us if you have specific feature requests or questions – always happy to chat, brainstorm or hear suggestions!
Our Team
The CampaignTrackly team is fully distributed – we live in different cities and countries. We work together in a virtual environment that enables us to get the best of both worlds – work from our homes and have a fulfilling job that makes us happy.
Our Transformational Advisory Board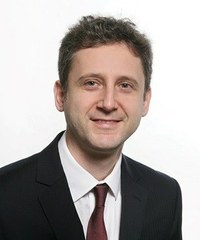 Dr. Alexander Mitov, PhD
Cambridge University Lecturer & Emanuel College Fellow
Board Member & Founding Partner
Dr. Mitov, co-founder, and owner is a theoretical physicist, working on precision phenomenology applied to all high-energy particle colliders, especially the Large Hadron Collider (LHC). He is a STFC Ernest Rutherford Fellow and European Research Council ERC Consolidator Grant recipient.
His passion for precision calculations and streamlined automation is partly why he was interested in developing the Campaigntrackly platform. Initially only a hobby, meant to support his partner's performance as a marketing automation consultant, now the platform represents a strategic business focus requiring daily engagement in its internal, product development and financial operations.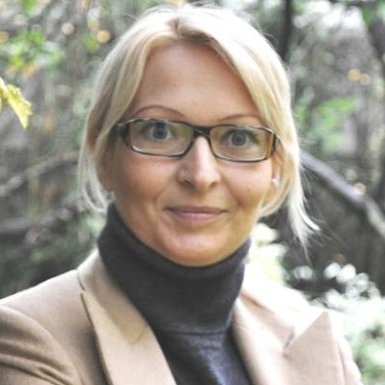 Drs Zeljka Davis-Vorih
Managing Partner, EMG Group
Board Member
Drs Davis-Vorih is a strategist with more than 15 years of experience with stock-listed companies in structuring teams at various levels and development of CSR positioning concepts. Experienced in: reputation management, social performance, sustainability and corporate positioning, responsible business communications strategies, community relations and stakeholder management.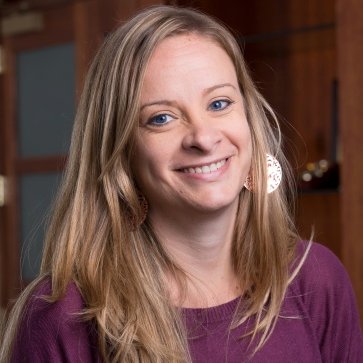 Adrienne Zimoulis
Marketing Communications Manager, Honeywell
Board Member
Accomplished professional with experience in developing internal/external communications, managing business relationships, and interacting with media and placing articles. Particular expertise in developing and implementing new ideas and strategies, written skills, creating press releases and key messaging, as well as communicating effectively at all levels.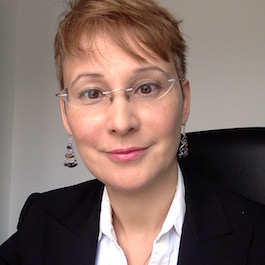 Milena Mitova
Marketing Director, Leafwire Digital
Board Member & Founding Partner
Dynamic, commercially astute senior marketing professional with global expertise and proven track record in sales revenues, go-to-market strategies and market growth across B2B. Technologist. Blogger. Marketing Automation expert. Celebrating over 15 years of impactful results: 256 digital marketing projects, 15 certifications, 6 awards.
Milena started the platform together with her partner, Alexander as a hobby and as a way to streamline ops and save time while struggling to track hundreds of digital link campaigns for several clients at a time.
As the platform started to attract more and more users – while offered as a free tool initially – the duo started thinking that perhaps the simple app could become something much more than just a tagging tool.
Friends Zeljka and Adrienne helped bounce ideas and contributed with the communications plans and strategic outlook for the future link management platform.
With the help of both customers and friends, the platform started shaping up as a serious player in the link management software market and today continue to grow and develop.