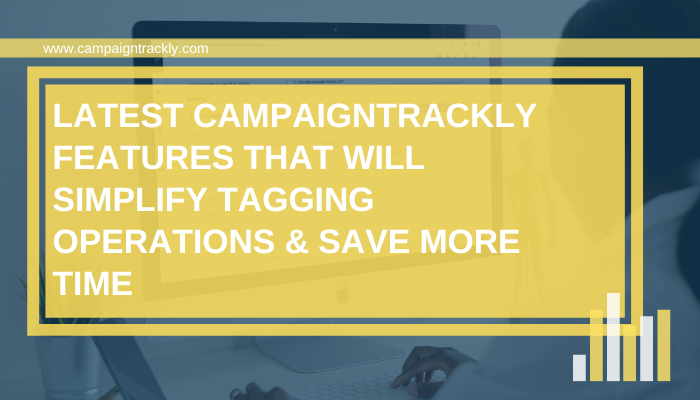 Latest CampaignTrackly Features That Will Simplify Tagging Ops & Save More Time
In this feature update blog, we will review the latest functionalities that promote increased link tracking standardization, while saving time for everyone on the team.
When it comes to campaign operations and logistics, nothing trumps ease of use and making it simple for users and team members to follow established processes, to ensure that performance tracking and reports are accurate. A large chunk of the link tagging activity relates to keeping things consistent and standardized, and in building new features for our app, we always try to keep this in mind.
And since we do realize that in everyday ops, rules have to be easy to apply, to be readily adopted by users, we dedicate a lot of time to testing and reviewing our new features. And we are grateful to all our customers who give us feedback and help us be better at what we do. Thank you to all who asked for the features below and who took time off their busy schedules to test and give us feedback! We appreciate you!
1. Adding unique identifier to every link.
Unique identifiers are important link features, which are extremely useful for standardizing reporting when handling large consumer campaigns or when you are sending your insights to downstream applications and visualization tools.
If you need to add unique identifiers for every single link that you are tagging, you can now do so by heading over to our Settings> Tag Formatting and Use page and activate the Unique identifier option available for you. This functionality will make sure to add a custom-generated number to every single one of your links going forward.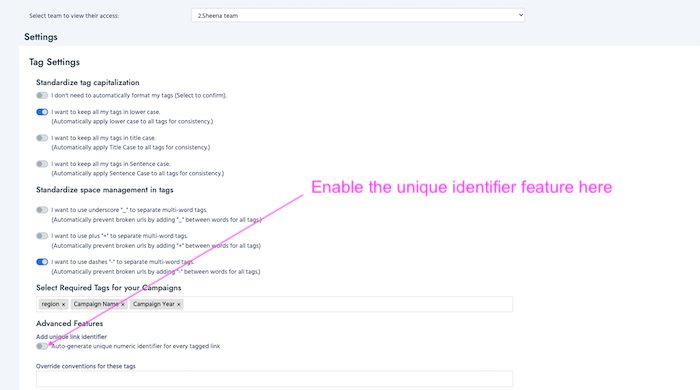 Need a refresher on the UTM_Campaign parameter and how to use it? Take the quiz or read our detailed guide
2. Auto-populating utm_campaign names from custom tags
Manual entry of campaign names creates an opening for typos or changes, which might impact the accuracy of data collection and reporting, and affect your budget optimization and marketing decisions.
While we support your tagging standardization and governance efforts by empowering admins to control font case and multi-word tag components across teams and members with a few simple clicks, custom utm campaign naming can only be standardized if
users exercise daily rigor (which is tough, as you have to try and remember campaign name components, order and other requirements) or if
the link management platform you are using makes sure to help you be compliant without the need to remember all the rules and codes.
One way to leverage the platform automation features is to create the components that need to go in the campaign name as separate custom tags (in the Settings>Custom Tags). Then, designate these tags as required (in the Settings>Tag Formatting and Use), and then go to our Settings>UTM Campaign Tags page to select option #3 and populate these mandatory tags.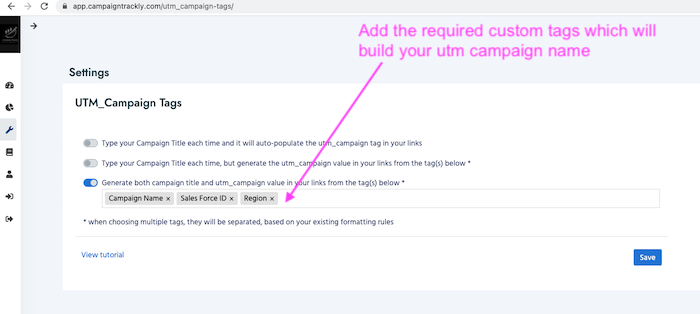 what that set up means to you – any time anyone on your team tags, they will not be able to manually enter a utm_campaign name, they will have to select it from the above designated tags. As long as these tags are set as "required", no one will be bale to progress further with tagging any links unless they meet the required set up.
what are the benefits for this feature – easy standardization and governance, minimal learning curve for users, minimal errors.
Ready to put your UTM Tracking Codes expertise to the test? Take the quiz. You can view the right answers at the end and retake it again.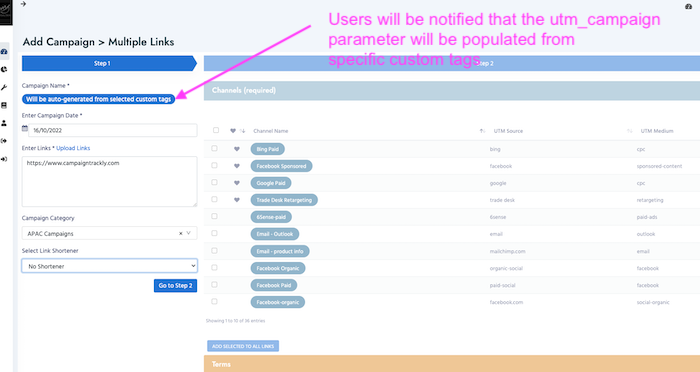 3. Link Tracking Checks
We already have in place a feature that enables our users to ensure that the link they are tagging exists. Now we are adding one more check – the GA check feature, which will show you if your link is being tracked in Google Analytics. The expectation is that if you are tagging an owned property link (that belongs to your website), then the page should be tracked by your analytics system.
This check will provide added rigor to your tagging ops, reducing errors and making sure that you are establishing a tagging strategy execution that follows the best operational excellence in the industry.

4. Dynamic Campaign Category
Google Analytics gives you up to 20 custom tracking dimensions. Our platforms provides the opportunity for you to assign a custom dimension to your utm_campaign reports, if you would like to group your campaigns into larger buckets – like Region or Business Unit, or Country. This is often a must-have feature to enhance and automate reporting across different P&L Units.
How you can set it up? It is a very simple process – you will need to work with your Google Tag Manager and Analytics team to designate a custom tracking dimension to your custom campaigns. You can give it the name you desire (like utm_region or utm_business-unit) and copy/paste the name and the index number that has been assigned to it by your team, in our CampaignTrackly platform.
How it works on our platform? You can come into CampaignTrackly's Settings>Campaign Categories, create your categories, and enable the function to add the category value to every link you are creating.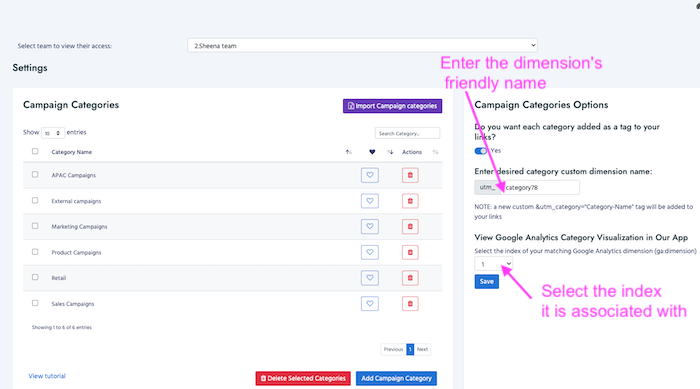 Once your setup is working, it is time to test it in real life. Head over to our UTM Campaign Reports page and use the drop-down menu to select a category and visualize its performance.
Conclusion
We hope that the addition of the above features will help you add more rigor and consistent formatting to your link strategy execution while saving you time and making it easy for your team members to adhere to the established processes. There are much more features which are under way, look forward to reading more about our upgraded tag templates, marketing taxonomies, facebook tracking options, and more.
As always, please feel free to contact us at support@campaigntrackly.com or via our on-site chat with any concerns or any bugs that you may see. We will award you for your time with a $10 amazon gift card!
Happy Tracking!