Why A WordPress Blog Delivers More Marketing ROI

Why WordPress for Blogging is the most cost-effective solution currently available on the market
Believe it or not, hundreds of marketers out there struggle every day trying to make do with the website content management systems that they have been given. In fact, according to HubSpot's latest marketing report, 31% of SMB marketers admit that managing their websites is the 3rd biggest roadblock in their daily work.
As a content marketer, I am fully aware that being able to focus all my time and productivity on creating content & promoting it is key to my success. I don't have space for extra distractions in my daily schedule. That is why finding the right website platform that will enable me to do my job hassle-free is really important to me. Hence, I am looking for a tool that would let me automate many of the non-essential elements of my work so that I can save the chunk of my time for the best and lowest hanging fruit – producing quality content. For the heck of clarity, here are some of the non-essential elements that I am looking to automate – image & video upload, embedding & sizing, on-site SEO elements management, sidebar content management, new page creation, tag & category management, content editing & sharing, etc.
I follow quite a lot of industry influencers, and they all have one thing in common – they use WordPress for their blogs. Not only that, some of them have even developed their own little plugins that are helping them be even more effective in reaching out and communicating with their audiences.
WordPress, is, without a doubt, the best platform currently available to bloggers – whether you are doing it professionally, or just for fun. It is extremely cost-effective – and that's looking at it from each and every angle –  install to deployment time, learning curve and usability, ease of SEO & media management, accessibility, look and feel, maintenance & support, etc. It is no surprise that  74.6 Million sites run on WordPress at this moment in time and some of the platform's  heaviest users include  CNN, New York Times, Mashable and many other top names.
So if you are like me, looking for a quick, easy, low-cost, no-brainer way to get a decent and professionally-looking  website or blog up and running in no time, I would definitely recommend that you give WordPress a try. Here is my journey.
I love Joomla! – it is and always will be my first love when it comes to website development and management – so what changed?
I am a tad different as a marketer, or so I like to think. I have been in the website business awhile. HTML and CSS are not things that scare me. I got started on Joomla! more than ten years ago and the more I used it, the more I loved the CMS and all its powerful functions that would offer the best mix of flexibility, ease of use, interactivity, and professional look and feel.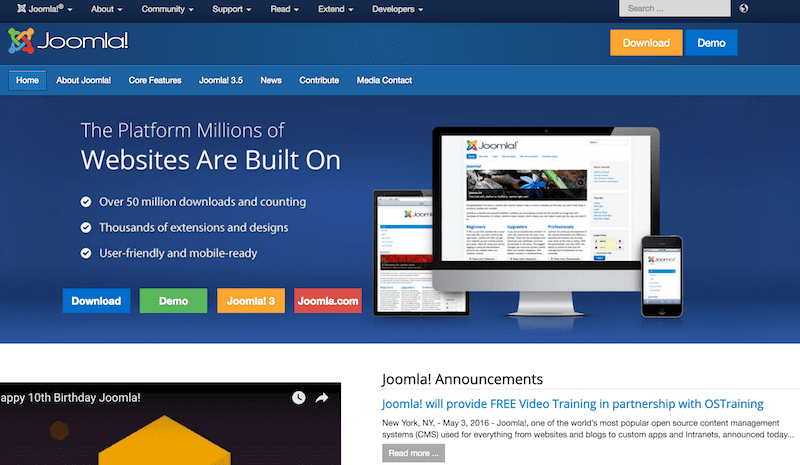 Unlike Drupal, which was tough on newbies, or WordPress, which was so limited and clunky at the time, Joomla had everything to offer – email management, contact forms, blog setup, easy-to-create menus of all sorts and shapes, in excess of 20 different automatic page layouts, image library management, and so much more.
Also, its community was awesome, and the people I met and got to work with were great. I went on to develop numerous websites for friends and customers. Along the way, I learned so much about SEO, PPC, digital marketing and Google Analytics and developed great working relationships with developers, designers, and website professionals from all over the world.
My own website, portfolio, and blog were running on Joomla! and it was great. I kind of needed these as postcards rather than anything else, so the fact that they were built on version 1.5 some seven years ago didn't really bother me. As long as they worked, I was happy. That is, until a couple of months ago when I started thinking of branching out on my own and set out to review my web assets and their status quo.
1. Google urged me to upgrade
Apparently, Google didn't like my web presence. When I logged into the webmaster console – a first in months and months, I admit – the first thing it told me was that my CMS was a very old version, which was a high-risk situation. I kind of agreed, but decided to put that decision off for better times – right now updating my content and my social media channels was my top priority, so I didn't really think investing so much time and effort in a new website, no actually, make that 3 websites, was a cost-effective decision at this point in time.
2. My web host kindly notified me that my CMS is dated
I have been using this hosting company for years, and I am fairly happy with them. They are cool; the support is efficient, never had any problems with them. So when I got their recommendation to move on to the latest and greatest version of Joomla's software, there were no harsh feelings about it – and why would there be, they were right. It was a necessary step, and I would plan to do that a few months down the road. I admit, I was a tiny bit bummed that two different sources were telling that I was behind the curve, but oh well, while it was on my to-do list, I knew I would have to focus on my top priorities first and foremost.
3. Joomla developers no longer support Joomla 1.5, how about that
So on my main site, I was using a few cool extensions, like RSForm, for example. I have been their customer since the very beginning when they started their business. I have used their forms on so many websites, including mine. This developer is great because they offer easy-to-setup plugins that enable your online forms to connect seamlessly with SalesForce, MailChimp, and other important Marketing automation providers with zero development time. Which is the best thing a marketer could ask for – productivity-wise, IT-independence-wise, etc.
When I was setting up my website, I didn't add the SalesForce & MailChimp plugins because I didn't need to at the time. Now though, I things changed, so I headed to RSJoomla.com to get my plugins – because I am one of their first customers, I own a "forever-valid" access to their forms plugins. So I happily proceeded to log into my account, only to find that all my Joomla 1.5 plugins were gone. I immediately opened a ticket to ask what was going on. My plan was to get my website up to speed with all the basic stuff I needed for my business in a couple of days, so I kind of needed these urgently.
As always, polite and to-the-point, the developer responded almost immediately. The answer though, wasn't what I had hoped for. Apparently, they had stopped supporting Joomla 1.5 more than a year ago.
ET TOUS BRUTUS?
And then, there was WordPress
That was clearly three strikes. Google, my host, and now the developers I am depending on… I had to think fast. I needed something that could be up and running in a manner of days. I knew that my priority was my content and my Social Media platforms. Now definitely wasn't a good time for major website changes and shake-ups. But something had to be done. All due respect to Mailchimp, I think they are amazing, hence they are my number one choice when it comes to email marketing, but the difference between the contact page they offer and the one I can get with Joomla… Night and day. And for a reason. Then there was also the question of SEO.    A quick look at my search positioning in the Google webmaster area and I was getting even more concerned.
My pages were ranking at positions #300 and above, good luck selling anything with that visibility. And last but not least, the look of my website was dated. While it was in an awesome working shape – the caching was right, the speed was great, the responsive design was still holding despite the fact it was done, like seven years ago – things weren't the same anymore. Plus, what was I thinking when I was building those – 3 separate Joomla installs, how am I going to be able to transition all of this to the latest 3.5 Joomla version and accomplish everything successfully in a few days?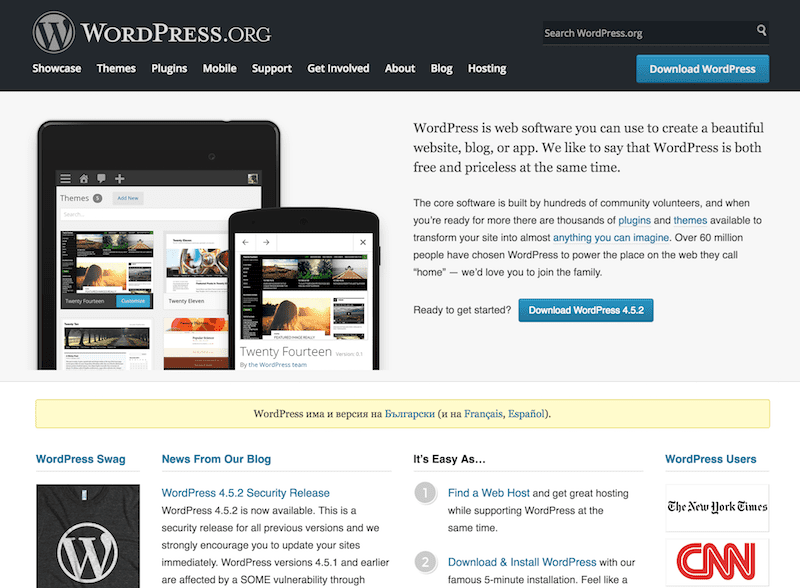 And then I remembered that I had seen a blog somewhere that was talking about how WordPress literally lets you be up and running in less than a day. Not only that, apparently, Google loves the platform so much that anyone with a WordPress blog that has been set up correctly can swim up in the rankings in literally two days.
Well, I guess it was worth a shot. So I did it. And this is what happened:
My web host set up the website in less than 2 minutes, literally
Apparently getting your WordPress site is as easy as just giving it a name and deciding what URL you want to select for it. No need to go and install anything or fiddle with PHPMyAdmin to create a database or set up passwords. So far so good.
I had a decently working "theme" or template in less than an hour
WordPress lets you install themes in seconds. Many are free. If you want something shinier, you can upgrade from the free versions and the process is painless. Like I said before, I love Joomla to death, but because of the complexity of the CMS, setting up a template has always been a process. Here, I picked a theme, upgraded to pro and was on my way to happily customizing it in a manner of minutes.
WordPress is not without challenges, but decent solutions are available
Thinking that I would have my site up and running in a day was a stretch. But three  days was close enough. I ran into a couple of snags, but thanks to the hundreds of WordPress users out there who have written so many posts about everything and anything WordPress and how to resolve it, I was able to patch those issues up in no time.
1. Importing my Joomla! Database into WordPress
I wouldn't even think of doing this manually. Because where Joomla and WordPress are concerned, there is a plugin for EVERYTHING. WordPress currently has close to 30,000 plugins available for free or paid downloads. In my case, the solution of choice was FG Joomla to WordPress. It is a paid plugin, and you have to pay separately for the core Joomla database and for K2 (Joomla's Blog version, which I was using), but the transaction was smooth, and I got instant access to everything I needed. Uploading the plugins took seconds. All you need to transfer your database successfully is the name and passwords of your databases. You enter them into what looks like an online form, and voila! Everything is now on your WordPress platform, including the images, categories, and tags!
2. The theme had to be tweaked
Of course, you don't need to worry about it if you are not quite fluent in HTML. The template will work nicely for you as is. And if you want to edit it, there is plenty of room for easy customization, by just using the drag and drop options that the template makers have prepared for you. But if you want to add your own flair to the template, you can certainly change font types, colors, and much more. I went to my CPanel, navigated to my site, then to the wp-content folder, and then made my way through to the wp-themes folder. It had 2 CSS files that you can edit. Changes propagate almost instantly, and you can see the results of your work almost right away.
One thing that is worth mentioning is that you need to keep good comments on all the changes you have made and save a copy of these files locally. This is because when the template makers update the template, you might lose all your customizations. I read that there is a plugin for that too, but I don't want to load my site with too many plugins.
What I didn't quite like was that the layout customization options are a tad limited, at least for me. For example, I don't want the comments and categories fields to show on the front page of my blog, but you cannot use the non-HTML wizard to manage that. You have to edit that manually in the original files and HTML/CSS/PHP knowledge is required.
3. The performance wasn't up to speed
So my site was slow. Because I still kept my original Joomla site, the comparison was quite disheartening. Luckily, it was plugin time again. The W3 Total Cache is apparently the solution of choice for almost everyone running on WordPress, so I installed that one, and there was a marked difference in how fast the site would load up from that point onwards. I am also taking measures to move all my images, CSS and javascript files to the cloud.
4. Yes, you get there fast. You don't get all the features, but that's OK
I think it isn't fair to either WordPress or Joomla to compare them blindly. They serve different purposes and cater to different markets. In my case, I can maintain a Joomla site and quite well at that. I can upgrade it successfully, build everything I need and things would be great. Because I have been doing this for years.
Again, in my case, I opted not to do that, at least not at this juncture. Because time is of the essence for me, and I am no longer in the business of making websites. I am a content marketer now, and I need all the time I can get to create content, write blogs, do research, and… write blogs. So I get the appeal of having a WordPress site. I saw first-hand how easy it was to set it up and.. forget it. It just runs. All you need to do is add content. And you really don't need any HTML or programming skills to do a great job and spend the chunk of your time doing what's most important for you.
Joomla can offer an amazing amount of features and functionality, including complex integrations with business's back-end applications, high-end personalization, and sophisticated interactivity. It is the right choice for SMB companies & organizations that require a lot from their websites today and that have the right resources to keep things smooth and nice. Joomla beats so many CMS offerings out there when it comes to ease of use and flexibility. Certainly for me – and I have lived in the world of SharePoint and its likes for quite a while – when it comes to user-friendly and make-a-huge-impact-fast, Joomla is bar none the absolute winner.
So let's see what happens
So, let's see if Google really loves WordPress that much and if my rankings will see the light of day any time soon. I will keep updating my search status & posting the results. I certainly like the WordPress Yoast SEO suite that is capable of giving you amazing insight as far as blog titles, keyword usage, article readability, etc. , are concerned. I  intend to use it every single time when I blog. I have also heard good things about Gravity Forms and the Broken Link Checker, but for now, I will focus on building my blog, so additional functionality will have to come after I have reaped some real benefits from my investment:).
I am excited about this change, and although WordPress will never replace Joomla in my heart – yes, I am that sentimental, hehe –  I am happy that I ventured into its blogging world, especially because some of the biggest names in #DigitalMarketing and #SocialMedia are using it, and quite successfully, so I have no doubt it will prove to be an excellent choice in the end.