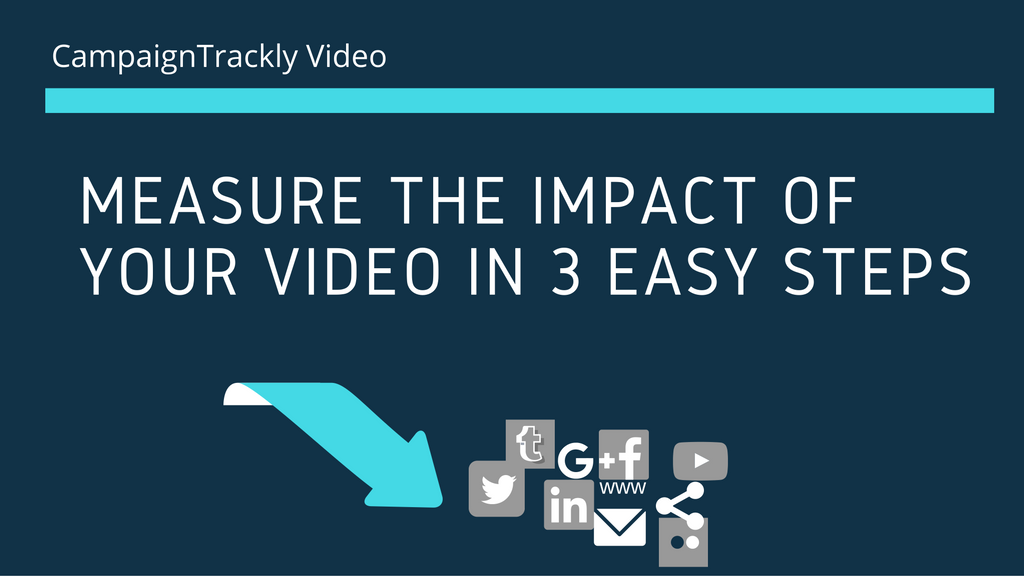 Track Videos in Google Analytics in 3 easy Steps
In this blog, I will show you how to track your videos in Google Analytics, so you can measure their impact as a traffic and conversions driver, and compare their effectiveness against your other marketing assets. The tutorial is also available as a video, but I would recommend that you read the blog first as it might answer some of your potential questions about link tagging.
Why Track Videos
As Video is becoming a driving force in online engagement, marketers have to devote more time and resources to be able to keep up with their audiences.
With popular providers such as wideo.co offering automation and templates, video creative services are becoming more affordable, but the overall production time and expenses are still steeper compared to those of proven conversion magnets such as eBooks and eGuides.
Therefore, it is more important than ever to be able to track the success of your videos because you might be scoring a lot of views and interest, but a weak call to action might be affecting your asset's ability to drive people to your conversion landing pages. Which is good news, because luckily calls to action take seconds to modify and don't cost us almost anything.
So here is a very quick and easy way to track your video assets in Google Analytics:
STEP 1 – Open the Video in the YouTube Editor
Youtube offers several ways in which your videos can drive traffic and conversions to your website, including Annotations and Call to Action Overlays. Click here to learn more about the options available to you at this time.
For this tutorial, I will focus on Call to Action Overlays. First, let's open the video that you want to promote and click on Info and Settings. You need to have editing privileges to be able to create and edit videos. If you don't – ask your administrator for help.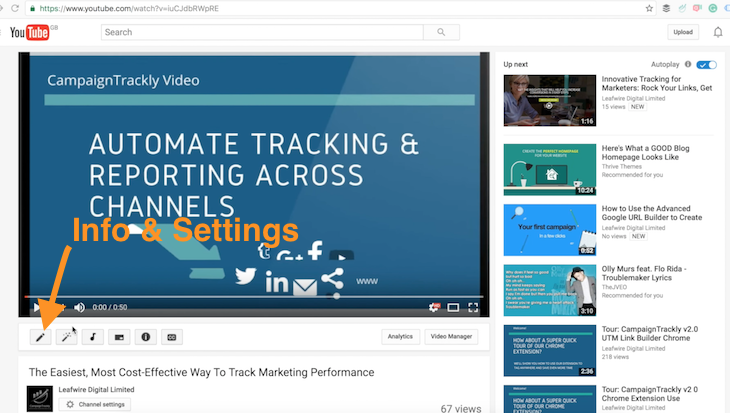 In Info and Settings, we will click on the Call to Action Overlay Tab (the last one from left to right). The overlayed "call to action" is a little pop-up that will display on top of the video as it plays, inviting the person who is watching to take a particular marketing action.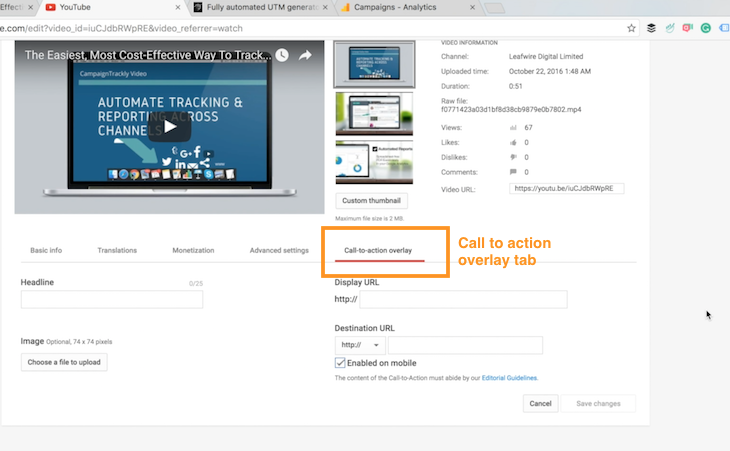 Headline
My call to action here will be Start Tracking for Free because I want people to visit my homepage and hopefully sign up for our free automated tagged link builder service.
Display URL
The Display URL is the address that will be shown on your call to action button. So here, I will put my website address, www.campaigntrackly.com – I want to direct all visitors to my home page.
Destination URL
The Destination URL is going to be my website address with a few tracking parameters added to it. I need to "tag" my link so I can easily track if the video is sending visitors to my website and if these visitors are signing up for my free plan.  
I worked hard to create it, so it is important to see if my video is driving incremental value by generating traffic and conversions. To do that I need to generate my tracking parameters. So let's go to step 2. 
STEP 2 – Tag your links and get them ready for use with a few clicks
All it takes is a click on the icon of the extension and it opens up in a transparent layer on top of the page I am on. No need to go to the app.campaigntrackly.com site – everything happens in the browser.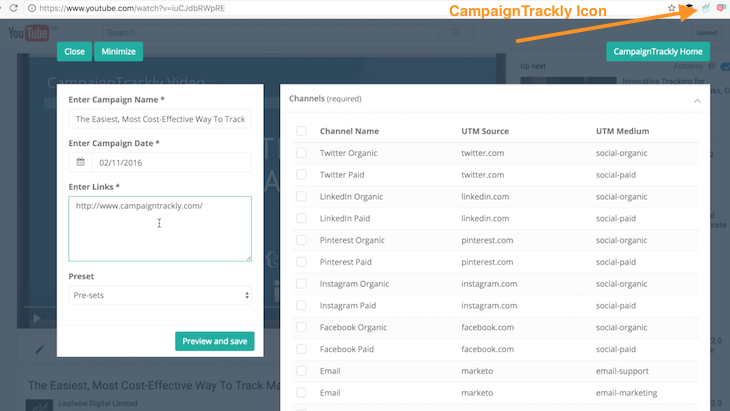 As you can see, under Campaign Name, the app immediately captured the title of the video. It also grabbed its web address. But I am not promoting the video – I am using it to promote my homepage – hence the link that needs to be tagged is www.campaigntrackly.com. In other words, my goal is to drive visits to my website and I need to know if and by how much my video will contribute to the incoming traffic. The link or URL address of the page that accepts visitors is usually known as an inbound link.
Next, I will click on the drop-down menu in the app's Preset section and will choose my video tagging preset.  The preset is a tagging template that I created in CampaignTrackly, so I don't have to type manually my content, source, and term tags every single time I want to track the performance of my videos.
The template gives me the option to track both an overlay and an annotation call to action. I can choose both, but for this tutorial, I will only use the link that will track the overlay call to action. I have the feeling that YouTube might be planning to outphase annotations soon because they are not mobile-compatible.
Let's copy and paste that in the destination URL field and hit save.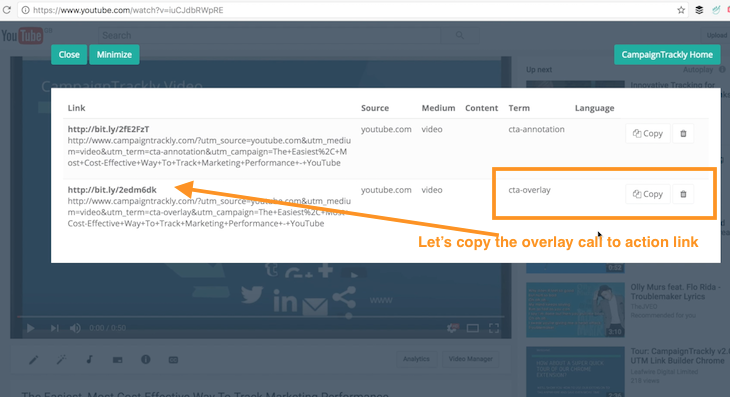 Here is the link –  already in the Destination URL: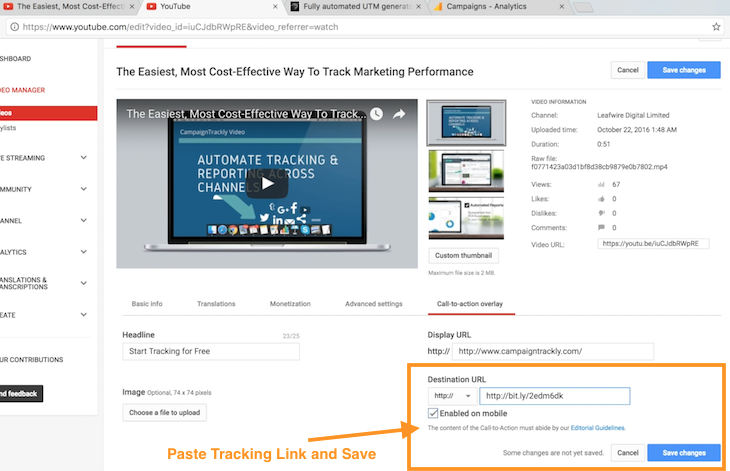 And now lets test to see if the link works. The image below shows that it has captured successfully all the tracking parameters that we entered.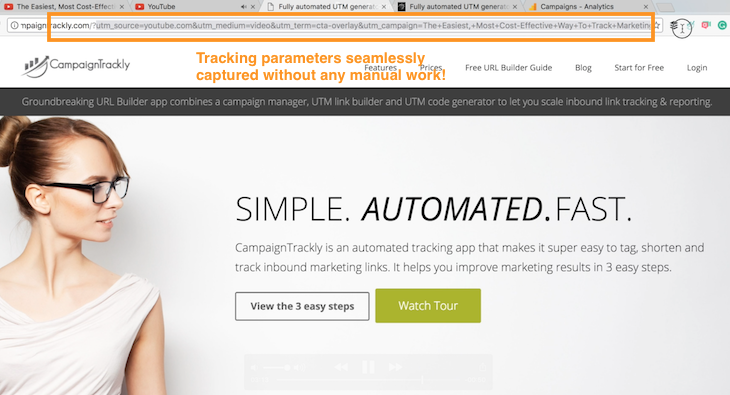 STEP 3 – Check the results in Google Analytics
If you are using the free Google Analytics version, you might want to check your results in a day or two after you promote your video. The way to do that is to go to Google Analytics>Acquisitions>Campaigns, click on Other and select Keyword to see te traffic and conversions your video is generating.
I don't have anything to show yet because I haven't started my promotion, but I hope to have good results as soon as I launch it.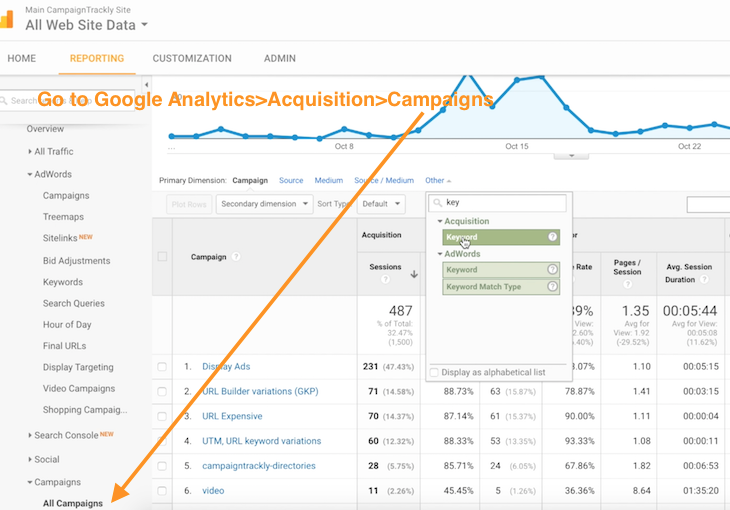 Conclusion
And that's all for today, hope this tutorial was useful and you learned how easy it is to track video performance in Google Analytics. If you have any questions, please do not hesitate to tweet us at @CampaignTrackly or visit us at www.campaigntrackly.com
You Are Only 3 Steps Away from Driving Better Marketing Results