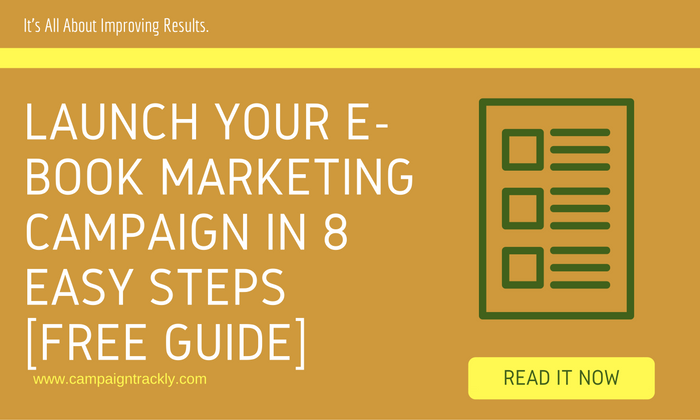 Launch & Measure the ROI of Your eBook in 8 Steps
This blog offers a simple infographic with a companion guide that helps marketers build from start to end a well-defined eBook promotional campaign. The steps outlined in it help marketers prepare everything needed to ensure positive user experiences and great results, including how to track the success of your eBook campaign in Google Analytics.
The companion guide is available under the infographic. Please feel free to share the image on your website.

A Companion Guide to the eBook Campaign Infographic
Why you need a step-by-step guide eBook campaign implementation guide
The internet is flooded with eBooks. Never before has it been so easy to write and publish a book online, yet many eBooks fall short of their potential in book downloads. Often the reason is that they have not been promoted enough, the promotional channels weren't tracked closely enough or optimized to drive traffic, or the campaign mechanics didn't meet user expectations.
In the above infographic, we share a best-practice approach to building and running an eBook campaign. This includes a tracking component which helps marketers measure how their promotion is going in real time so that they can tweak page content, amend campaign messages, or swap out channels in the course of the campaign to ensure better returns on their investment.
Your Campaign
Before focusing on the logistics of implementing your campaign, let's discuss several important components that need to be defined first:
a measurable objective – there must be a reason why you want to create your eBook, for example: generating XYZ leads for product A every month.
KPI goals – your key performance indicators would be ROAS, CTR, Conversion rates, Traffic growth share, etc.
assets that will be promoted across a number of channels – you will have a gated pdf doc that will be made accessible to leads who provide their name and email info on a landing page with a web form.
digital links associated with these assets – you will generate as many tracking links for your landing page as the channels you intend to promote it on so you can measure best performing channels.
Your landing page
Your eBook's landing page usually consists of a title, a call to action, a few bullets describing the benefits for the user if he/she downloads the material, and an online form. There are tools out there to help you create effective landing pages such as Wix, Lander, and GetResponse. You can also use your Marketing Automation tool or Wordpress to build your targeted page. Here are some key elements to consider when creating your page:
Make it consistent with the ad, link or banner that sent the user there
In your storyline, make sure you are clear about product/service benefits
Build trust by offering testimonials, listing awards and being clear with terms of service.
Ensuring that your campaign will be tracked in your Analytics tool
To make sure the visits to your page are being recorded by your analytics tool you need to verify that you have a tracking code (snippet) that has been added to it.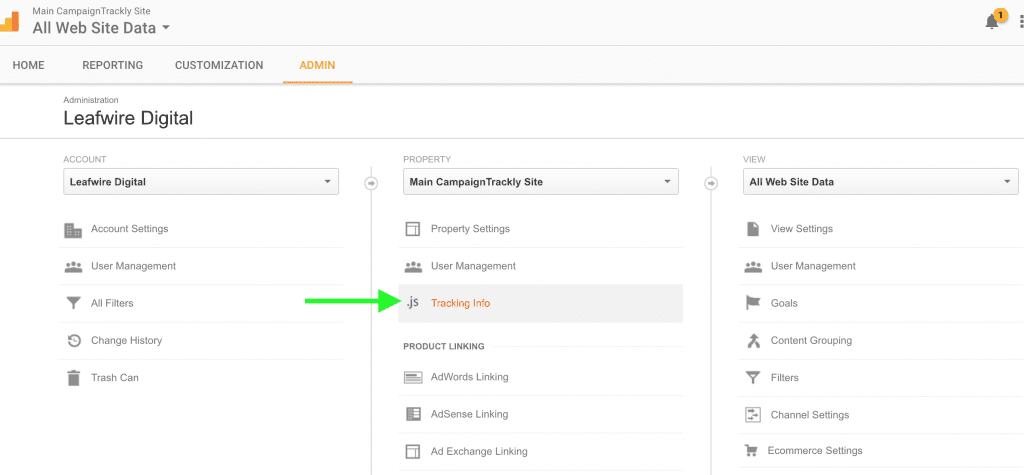 Most landing page providers these days give you the option to add your Google tracking code, so be sure to take advantage of that. If you are using your website, your page is probably already being tracked. It wouldn't hurt to verify this, just in case.
The sign-up form and thank-you page
Every promotional page needs to be paired up with an online form and a thank-you page that provides users with further instructions – usually how to complete their registration process.
The URL address of the thank-you page is used to create a "Goal" in your Google Analytics platform. The purpose of the goal: every time someone fills out your form, Google records it as a conversion and attributes it to your campaign.
This way you will be able to tell in seconds exactly how many people requested to download your eBook. All you need to do is go to your Google Analytics dashboard and select Acquisition>Campaigns from the menu on the left.
Note, to create a goal you will need to have administrator access.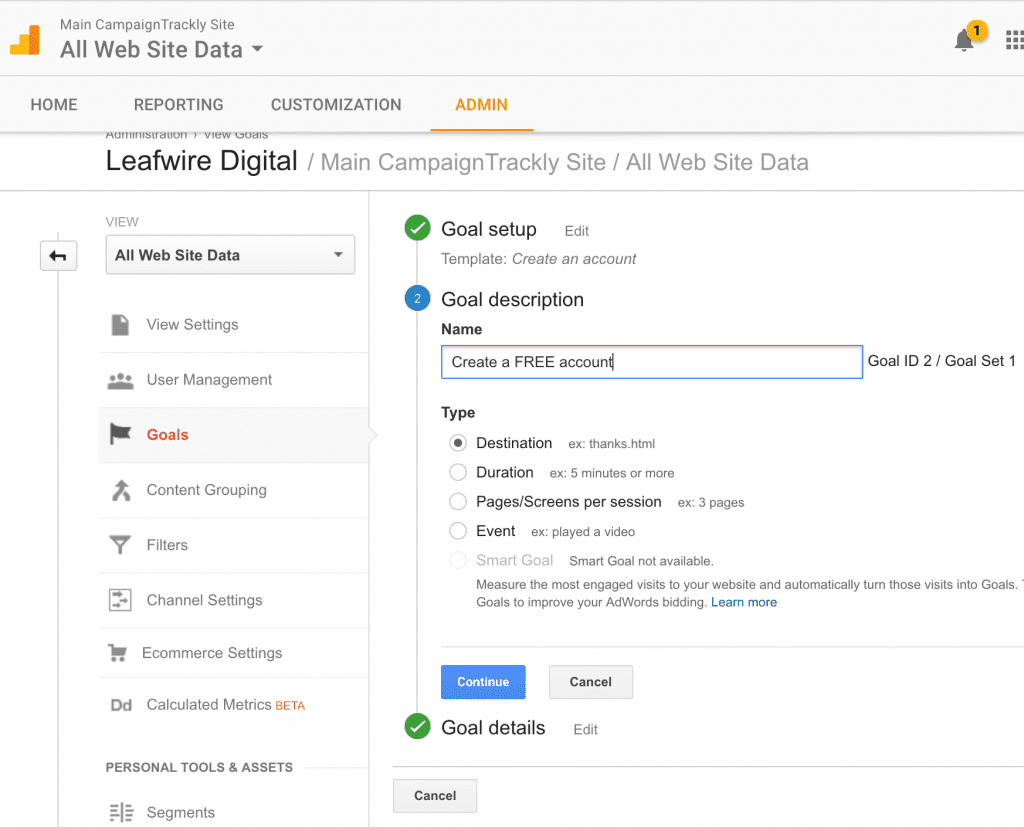 The "third" page
A best-practice approach to building our email list requires that we follow a "double opt-in" process, where we verify a user's address via an email that gets sent to them right after they fill out the online form.
In addition to helping us to be compliant with the increasingly stringent legal requirements related to collecting user emails, this process also helps weed out fake/non-existent addresses.
To implement the double opt-in component, we need to build a "third" page for the campaign. This is where confirmed users can go and retrieve their eBook file. Usually, a link to the page will be included in the confirmation email itself.
Testing your workflow
It is advisable to test your complete registration and download process to make sure everything works smoothly. This will keep your customers happy and will increase their trust in you as a content creator and vendor.
An added benefit to testing everything is that it will ensure your prospects are not dropping off in the middle of their journey due to a technical problem.
Creating analytics tracking links so that you can measure your eBook campaign success
To be able to successfully and easily tell if our promotion is driving enough traffic to our landing page, we need to track visits (sessions) in Google Analytics – at the campaign level.
Because we have put in a lot of effort in this promotion, especially in the case where we might use paid social and search channels to get more visitors, it is really important to see if our investment is paying off.
To that end, we use UTM-based tracking, where we simply add a few tracking parameters at the end of our the URL address of our promotional page. More details regarding UTM codes are available in our free URL builder guide.
If you would like to automate and simplify the manual and mundane link tracking setup process and reduce campaign production time, consider using
campaintrackly.com
.
CampaignTrackly is a web app + Chrome extension combo that will significantly shorten your UTM code tagging production time.
With CampaignTracky you can roll out and store all of your campaigns in one place, and enjoy easy reporting out of the box thanks to its integration with Google Analytics.
The Promotion
Now that all your pages are ready, your goal has been set up, your tracking links have been generated and shortened, and your testing has shown that your users can have a great journey, you are ready to start promoting your campaign.
Here are a few great ways to begin generating leads:
SOCIAL POSTS: Write between 15-20 tweets plus a few Facebook and LinkedIn posts that sell effectively your eBook. Clever, appropriate tweets will be re-tweeted which will increase your reach exponentially
IMAGES: Create 3-5 effective images using canva.com to create great-looking graphics to promote the content of your eBook.
VIDEO: A brief 30-second video can help your promotion tremendously. Video has proven to be a top performer when it comes to engagement. Additionally, promoting your video on YouTube and Twitter is much more cost-effective in comparison with paid search, LinkedIn, and Facebook ads.
EMAIL: Send an email to your existing customers and promote your eBook to your prospects.
BLOG: Write a blog about your eBook and explain why it is an invaluable resource for your target audiences.
OUTREACH: Contact bloggers, partners, and your product evangelists and send them your eBook, asking them to share it with their audiences.
FORUMS: Share your eBook landing page with fellow LinkedIn Group members.
Don't forget to track every place your eBook has been promoted on.
In Conclusion
Congratulations! You did it!
Now, head over to Google>Acquisition>Campaigns for some feel-good result-driven ROI reports.
Are You Looking to Automate Link Tagging & Improve the Quality of Your Marketing Insights? Give CampaignTrackly a go. It can speed up tracking by up to 500% and significatnly reduces reporting errors.