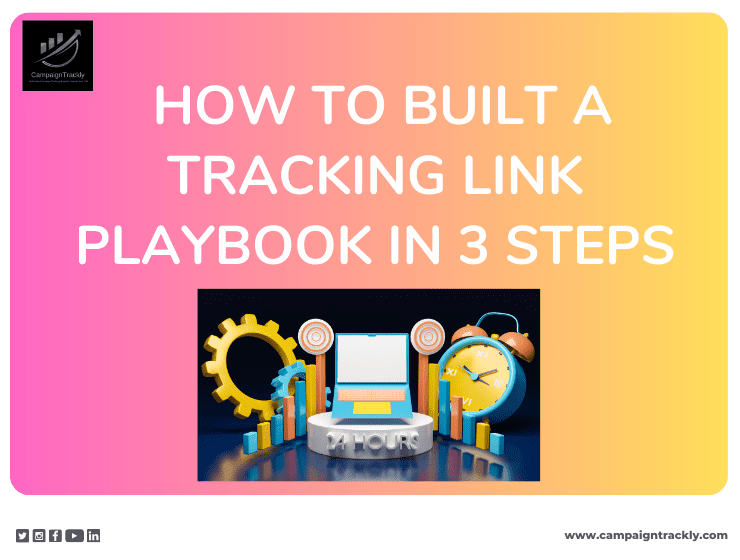 How to Built a Tracking Link Playbook in 3 Steps
"My logisticians are a humorless lot … they know if my campaign fails, they are the first ones I will slay." – Alexander the Great
Why Tracking Links Operational Logistics Is Key
Despite being so many centuries apart – morbidity aside – this quote shows that Alexander the Great was right about one thing – even the greatest strategy will fail if your operations and logistics are not up to par.
Every business process has its rules, players, and governance. And the best way to ensure all stakeholders are operating together in an effective and productive way is to have a document that outlines roles, responsibilities, approvals, steps to produce deliverables, rules, and adjacent tools that are part of this process.
Why Do We Need A Tracking Link Playbook for Our Marketing Ops
Operational playbooks document your process and ensure everyone involved has access to the information they need to do their job effectively, working towards the same goal.
Playbooks help you create a single source of truth about your strategy and its building components – people, tags, campaign rules, governance, link architecture, connectivity, and more.
Who Will Have Access to Our Playbook
Playbooks can be used by your IT team and partners to understand your deliverables and requirements – especially when technology and integrations are required.
Stakeholders might use them to get aligned on your processes and objectives, or create business cases that could result in wider scope and application of your strategy.
Newly joined team members can use them to get onboarded quickly and seamlessly by accessing all the information needed in one central place.
The Elements of Our Link Tracking Operational Playbook
Start with making sure that you have in place all the channels and sources that you need to use for your link tracking strategy.
Include all the tagging elements that are required to build your tracking links.
Create your desired link architecture for every channel.
List all your governance aspects related to this process.
Dedicate a tab for each of your tracking tag groups – UTM_Source, UTM_Medium, Custom tags, and more.

Document the rules that every tag should follow, including font case, how you treat spaces between multi-word tags, and more.
Include all the current tags, and if new tags can be added, describe the process, permissions, and releases.

Create your campaign templates for every channel or campaign type.
Establish your reporting process and types.
Put down all your upstream and downstream platforms that need to receive your data.
Create a separate tab for your team with their names and emails for easier management.
Document how you will keep all stakeholders informed about key updates and changes in your process – for example, if you plan to send a monthly email newsletter, record all your communications and keep a copy of them in case of any audits.
Provide links to relevant trainings, diagrams and support information.
How to Build Your Tracking Link Playbook in 3 Steps
Just use our template. All our customers, both free and paid ones can access it for free to build their own link strategy playbook in minutes.
3 Steps to Build Your Own Playbook
Step 1. Sign up for a FREE CampaignTrackly account.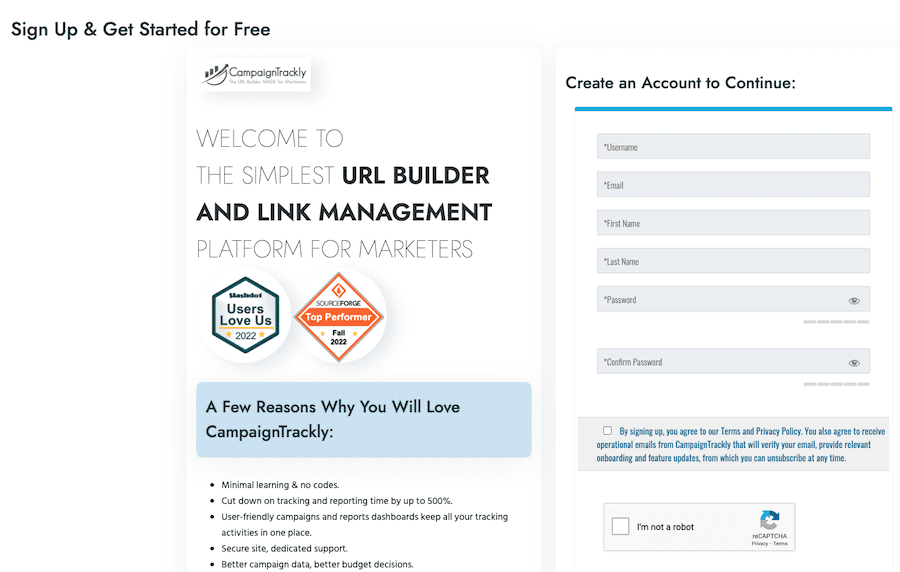 Step 2. Choose to Onboard as an Admin and click on the Playbook button.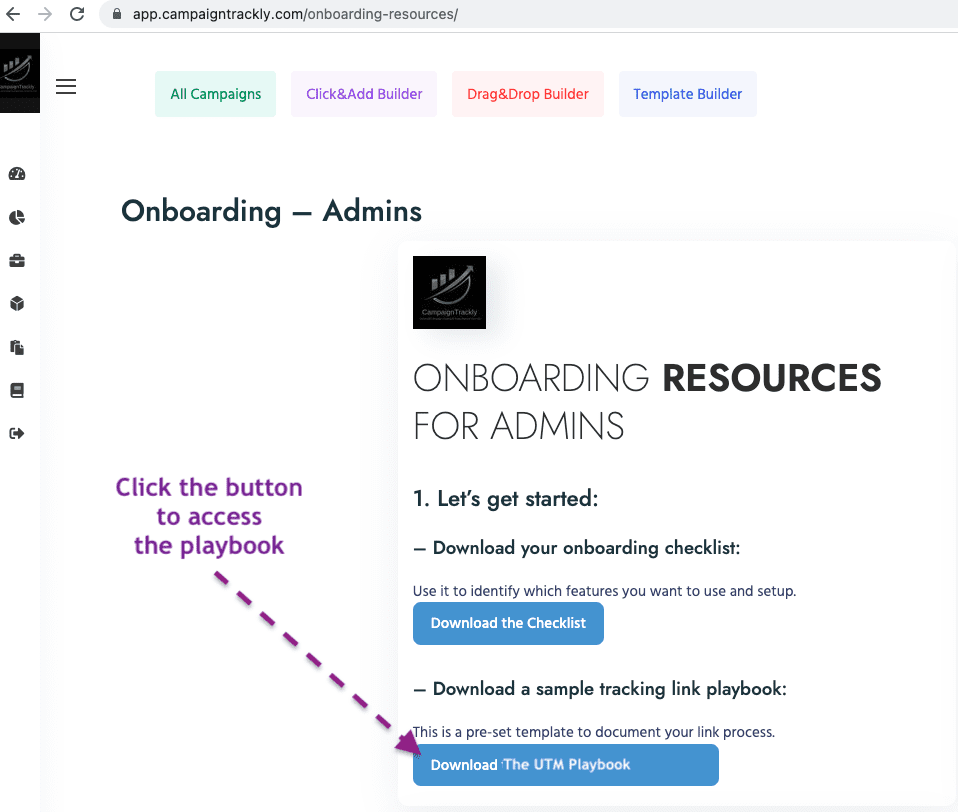 Step 3: Make a copy of the playbook and start adding your own tags, rules, and information.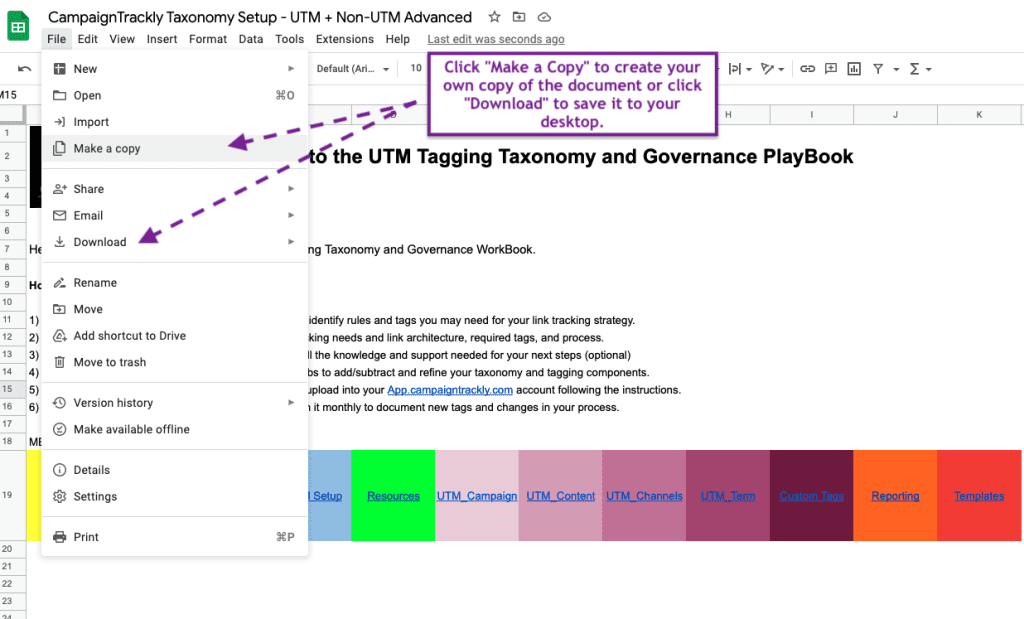 Interested to Download our Link Tracking Playbook?
Create a Free Plan with us and instantly access the playbook as a Google Sheets document.