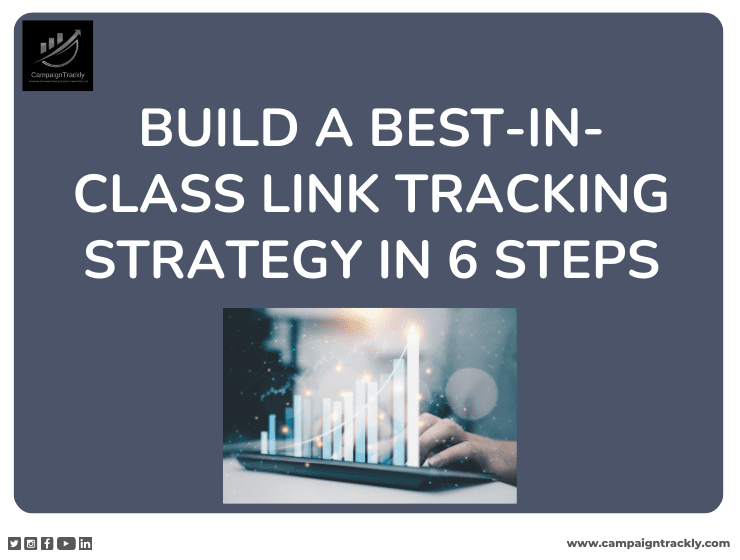 Build a UTM Link Tracking Strategy in 6 Easy Steps
Today, having a solid UTM link tracking strategy is a must. With more than half of marketers struggling to measure the ROI of digital advertising due to bad data and manual processes, a well-built framework for tracking links and clicks is the most reliable way to deliver actionable insights and improve campaign performance.
Why Do You Need a UTM Link Tracking Strategy
Links are everywhere. We click a link to send an email, click a link to attend a meeting or give a like, click a link to buy products or set up a doctor's appointment, and so much more. With five billion Internet users and counting, that's a lot of links and clicks.
And the website analytics market that helps businesses measure the return on their links is growing every year, expected to reach $18 Billion by 2027.
With digital marketing taking the biggest share of marketing budgets, having a well-defined and easy to implement marketing link tracking strategy, also known as UTM link tracking strategy, is quickly turning from a nice-to-have into a strategic business imperative.
The Six Pillars of a Best-in-class Link Tracking Strategy
To build an effective, strategy around creating trackable links and using their insights to create actionable marketing reports, you need to use these six important components:
1. Map Marketing Campaign Categories
These categories will be mapped into your analytics tool as custom dimensions to provide reporting rollups by marketing objective.
Marketers group their marketing campaigns into 4-5 categories, based on the buyer's journey for their products or services.
Here are five examples of marketing categories:
Acquisition – the social media, cold-email, and advertising campaigns focused on driving relevant traffic to your web properties. KPIs: traffic, reach, page-views.
Lead Generation – the campaigns that aim to generate marketing leads. KPIs: number of forms filled, email addresses generated, follow up email opens and clicks, number of resources downloaded, etc.
Conversion – the drip and onboarding campaigns meant to convert trialists into customers, demos, webinars, and trainings. KPIs: marketing qualified leads generated, sales opportunities generated, opportunities closed.
Retention – the nurture campaigns meant to keep customers engaged and invested in the product, so they do not switch to competitor offerings. KPIs: churn rate, Lifetime customer value, etc.
Upsell – the promotional campaigns that aim to embed the company deeper into customer processes by offering adjacent products and services.
2. Map Main Marketing Channels
These channels have to be the same as the channels in your web analytics platform to ensure reporting consistency across your CRM, Marketing Platforms, and Analytics.
The second step in the process is to define your main marketing channels, which you will use for your marketing campaigns. These are also known as your "mediums" in web analytics speak.
Search
Social
Display
Email
Referral
Video
PR
Affiliate
Publisher
3. Split Channels into 3 Media Types To Define Custom Tracking Needs
These media types define which marketing campaigns will be auto-tracked by your analytics platform, and which will have to receive manual tracking codes to achieve effective reporting.
Each of your channels has to be split into three groups – owned, earned, and paid. When building your strategy, you need to map every group, so you can build a standardized and reliable taxonomy in place.
View the media breakdown by channel type in the image below: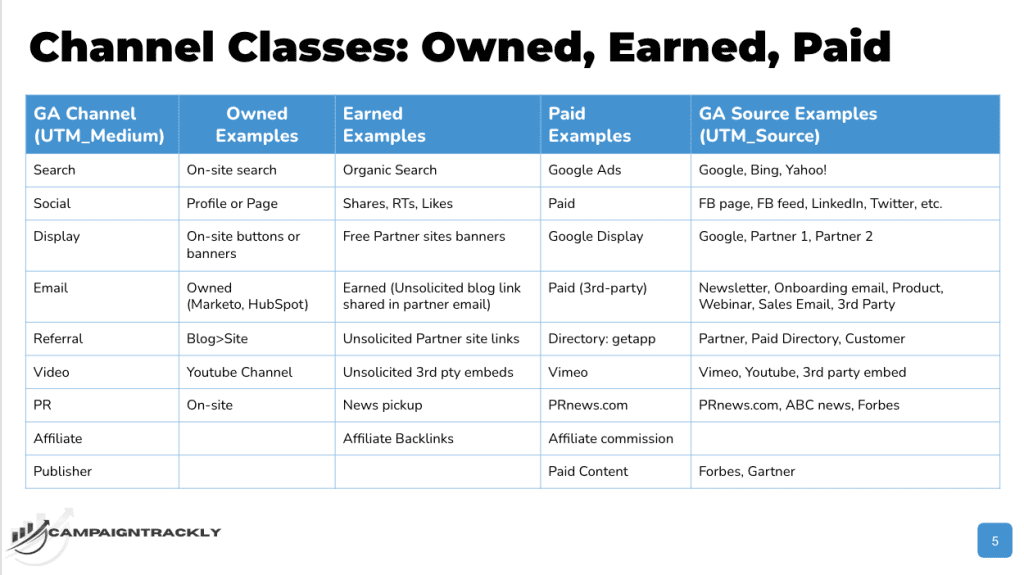 4. Identify Which Media Your UTM Link Tracking Process Will Activate For
As a rule of thumb we never add custom UTM Tracking codes to earned media because we do not have much control over it.
As a next step in your strategy approach, define which owned and paid campaigns – and their links – will require consistent and regular link tracking.
Earned media example
Organic search is an example of earned media. You never put tracking UTM code on your owned internal website links or webpage URLs when it comes to SEO. It is up to search engines to decide if we have earned their attention and which pages will be picked up and displayed on their search results. Adding tracking code to these links will break your attribution models, therefore Organic search is never tagged via custom code snippets.
Owned referral media example
While the above non-tracking rule applies to internal website links within the same site, if your blog is on a separate platform than your main corporate site, or if you have a mobile app – you should always use UTM tracking links when you are referring traffic between your separate owned platforms. These will be considered owned referral traffic.
Use the image below to define mandatory tracking link promotional channels by media type: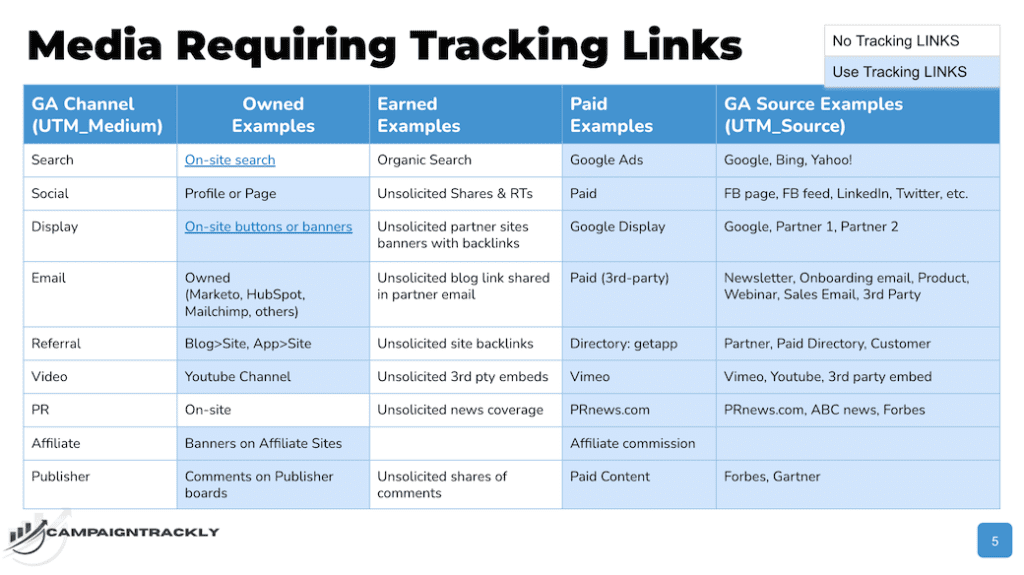 5. Map Out the Campaign Tracking Operational Taxonomy
This exercise is to give you an operaitonal playbook that can be shared with your stakeholders and that can be updated every time there are changes in your strategy or process.
Once you have taken into consideration everything you need, based on your campaigns and objectives for the year, you will have finalized your marketing campaign link tracking strategy and operational taxonomy.
Use the example in the image below to map your taxonomy: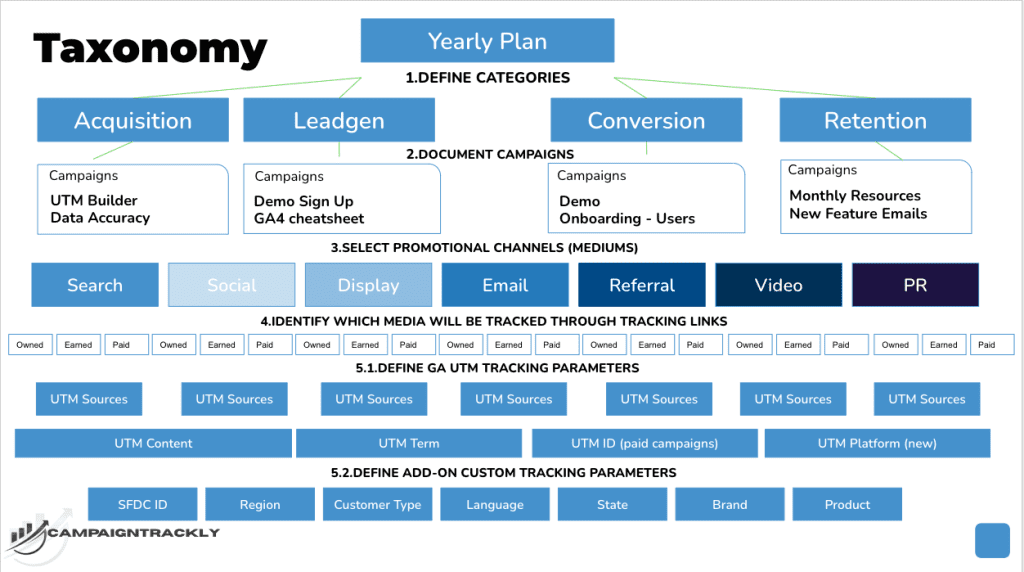 6. Decide How UTM Link Tracking Plugs Into Campaign Production WorkFlows
This step is mandatory, especially if you have multiple players and they have their own production and delivery processes.
The last and final step in creating a best-in-class link tracking strategy is to map out your campaign production workflow and identify where you will plug in the tracking link activity to make it a success.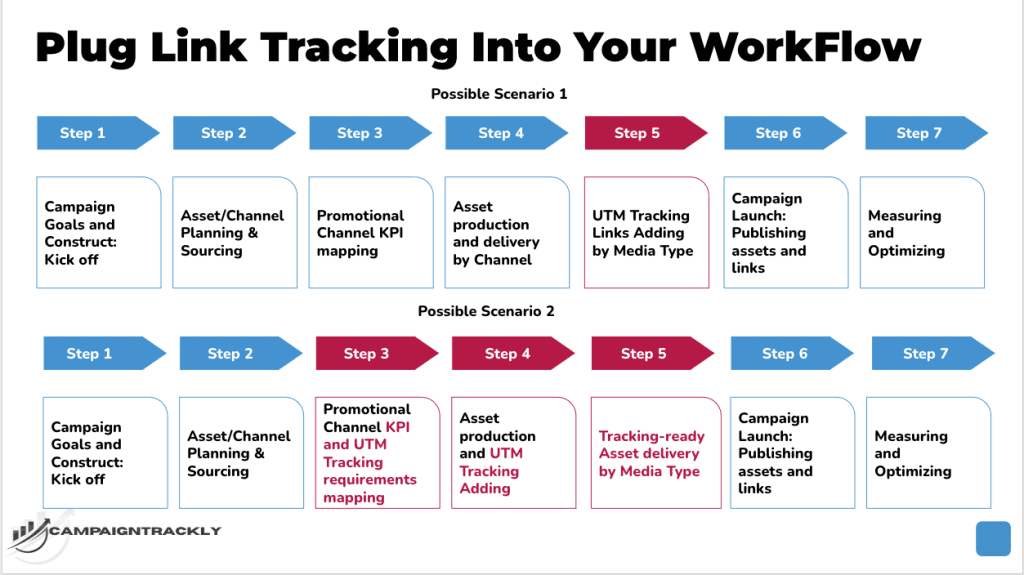 If you have different teams delivering campaigns across different channels, you will need to map each team's process and how the link tracking requirements can be added without significantly disrupting the flow they currently have. This is an important consideration relating to team motivation and adoption and needs to be managed effectively.
All teams that will be touched by the new Link Tracking Strategy will need to be bought into, and trained to follow the workflows needed to achieve consistent and reliable tracking insights, so your project is a success.
Conclusion
A well-defined link tracking strategy will empower you to build effective, one-stop reporting mechanism for all of your digital marketing campaigns using smartly your web analytics tool. To do that you need to know exactly what needs to be tracked via custom-created UTM tracking codes – and what will be tracked for you out-of-the-box.
This is important, because once you map how you will be generating insights from all your marketing activities, you will be in a great spot to start planning your reporting dashboards, and how they will be shared with decision-makers to measure and optimize ROI.
Recording all relevant owned and paid promotional activity is a must if you want to be successful at measuring accurately and it requires a solid taxonomy, along with a workflow, and a tagging library.
A quick and easy way to start building a best-in-class UTM link tracking strategy is to follow our 6-step guide above, which will save you time and will help you be successful in no time.
Are You Looking to Build Best-in-class Digital Marketing Link Tracking?
Find out how our platform, CampaignTrackly, can help you implement a solid UTM link tracking operational strategy.