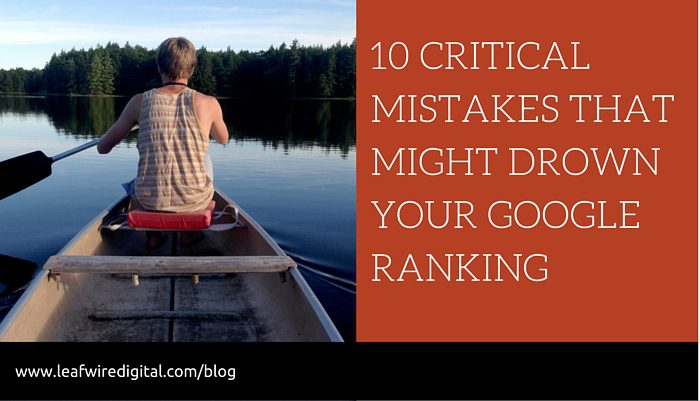 10 Critical Mistakes that Might Drown Your Google Ranking
Here is a quick rundown of the top 10 mistakes that will prevent your website from ranking well in the search engine page results and how to fix it:
Multiple pages, subdomains, or domain redirects with duplicate content.

How to fix: Try to host all your website content under one domain to make sure all your pages pass their links juice on to it to increase its authority and strength. This is also easier on your users as they can find everything they need in one place. Keeping everything together makes it easier to identify and manage duplicates.

Lack of a site map to highlight all your web pages.

How to fix: Talk to your IT team and explain to them how important a site map is as it enables Google, Bing, Alexa, and the other search engines out there to creep and index the website better and more regularly. Ask them to provide you with one. If you are lacking an IT resource, you can find an external tool that can help you out or you can check out this one: https://www.xml-sitemaps.com/

Lack of unique page titles or having the same page title everywhere

Hot to fix: If you are using a CMS website built on Joomla!, WordPress, Drupal or any other content management system, most likely your providers or developer will show you the plugin you can use to manage this on-site SEO element. If you are using a static website, you will need to leverage an HTML editor to check, enter and edit your page titles manually. Unless you have some level of HTML fluency or have found a friendly plugin that can enable you to edit page titles, I would generally recommend that you abstain from implementing any on-page meta data changes by yourself.

Lack of unique page meta descriptions

How to fix: While page descriptions might not necessarily have a significant impact on your search engine rankings, they are an essential SEO optimization element because they enable you to write your unique value proposition to the searcher who has found your page along with the 7-8 other pages that will come up as a result of any  search.
This is where your description will show in the search results (image above), so it is really good to have a clever call to action or something else that might help you stand out from the competition, so that you can get the click instead of them. Again, this functionality will be readily available for you if you are using a CMS website.

Frames or flash intros, especially on your home page

How to fix: You would think that in this day and age, these elements would be a cry from the distant past, but you might actually be surprised how many websites out there continue to have elaborate intros that essentially block users from getting right to the content they have come to find. My advice is: less is more. Opt for simplicity, whenever possible. If you want to impress users, impress them with quality content and effective imagery or video. The simpler your website is, the faster it will load, and Google definitely loves lightning fast websites in their top ranks.

Ultra long, unfriendly URLs of the following sort that have no particular meaning, for example: http://www.casalarga.com/index.cfm?method=storeproducts.showlist&productcategoryid=ac96dd03-c3fa-a96a-abee-1233123f91ba

How to fix: If you are using a CMS website, you will probably be able to ask for an SEO plugin to be installed too. That will make your life exceptionally easy because the plugin will auto-generate your friendly SEO URLs automatically, saving you so much time along the way! If you are using a static HTML website, then you can enter a friendly URL manually in your HTML editor.

 Lack of internal cross-linking (pages linking to other pages on your site)

How to fix: Create more menus – top menus, side menus, footer menus; hyperlink important keywords to pages on your site that have a lot of content to back these keywords back. Think of it as your internal promotion and promote your pages as best as you can, but generally try to maximize this opportunity wisely.

Lack of other, external websites linking to your website

How to fix: This one is a tough one. The only feasible way that makes sense is to create valuable content, promote it on social media and hope that people will start liking it, sharing it and linking to it. I am not a believe in link- building magic. Maybe I am too conservative, but I have seen way too many website go down as a result of different creative link-building techniques, therefore I am reluctant to recommend anything other than just creating content that is worth sharing.

Pages that are "under construction".

How to fix: Google Analytics can be very helpful here – it can give you great insights into the performance of your pages, and you can easily spot which pages lose visitors and which keep them onsite longer. Generally, it is better to not publish a page than to post an empty one, saying, "content coming soon". While this is not something that relates directly to SEO (meaning, you won't be penalized, and you won't be rewarded either), it affects your reputation, authority, and how your visitors see you.

Keyword stuffing (deliberately cramming your pages with keywords without incorporating them into well-flowing website copy)

How to fix: So this one is a really tough one. Some experts out there say that this is no longer working. That the search engines have become so sophisticated that if you stuff your titles and your top paragraphs with keywords you might even get penalized and lose serious rank levels. My advice would be as follows:

Make sure that the keyword(s) you are competing for is present at the beginning of your page title
Verify that the keyword is repeated in your H2 (subhead), as well as in the first paragraph of your web copy. Don't go crazy, but don't forget to include your keywords and their synonyms either. After all, unless you include the relevant keywords in your copy, how would any of us know what you are aiming for:).