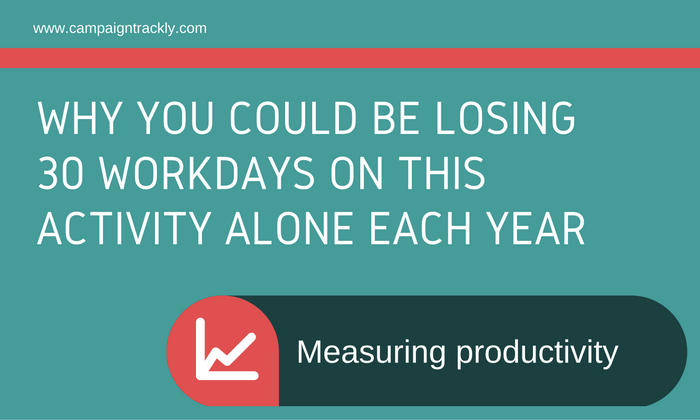 CampaignTrackly 36x Faster than Google URL Builder. Why it's Great News for You
Seeing is believing. In this blog, featuring a brief 2-minute video, we will show you an actual comparison between the Google Campaign URL Builder and CampaignTrackly in action. You will see that the CampaignTrackly tool performs 36 times faster. Why this matters to the marketers who promote multiple links & campaigns? Read on to find out.
Why This Experiment Matters to You? 3 Reasons:
1. If you are not tagging your links to keep track of your performance, you could be overlooking weak content, call to actions or channels that cause leaks in your budget and prevent you from delivering great results.
2. If you are tagging manually, promoting multiple marketing links across email, social and many other channels means that you might be processing 50, 100 or more links on a regular basis.
3. With manual tagging you could be wasting more than 30 days yearly! Yes, that's 30 days that could be spent on other activities which could really make a difference to you and your team's performance.
Watch the 2-minute video or continue reading to check the math. 
Comparing CampaignTrackly and Google Campaign URL Builder
The experiment
For the purpose of this experiment, we will focus on a simple blog promotion campaign. We will pick a single blog that needs to be promoted across 13 channels, including blog community and forum sites, as well as Twitter and LinkedIn.
The first part – using CampaignTrackly to tag, shorten and prep the links for sharing
First, we start the test by going to the page of the blog post we want to promote.

From there, we click on the CampaignTrackly

 Chrome 

extension, available as a green icon in the top right corner of the Chrome browser window. and both the  blog title and the link are captured automatically.

Then we select a blog tagging template, and we get all our links tagged, shortened, and ready to be shared in seconds.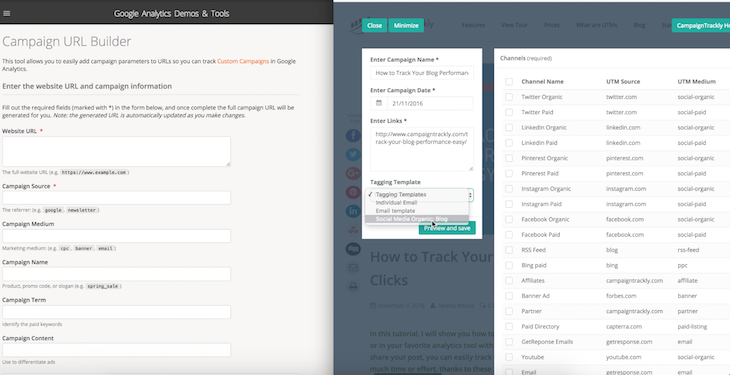 4. The whole process takes about 20 seconds.
The extension automatically captures both the title of the blog, which will also serve as the name of our campaign, and the link address of the page.
The blog promotion tagging template is a dynamic collection of pre-set tagging values, ready to be re-used with a push of a button.
The second part – time to see how things are done with the Google URL Builder
Now it's time to see how long it will take us to do same with the Google Campaign URL builder.
As we can see in the video, it takes a lot of copy-pasting and/or typing. Every tracking parameter has to be entered manually, and it takes about 56 seconds to build a single tracking link. Multiplied by 13, this gives us a little over 12 minutes for this particular campaign.
And the winner is….
CampaignTrackly does the job 36 times faster than the Google URL builder.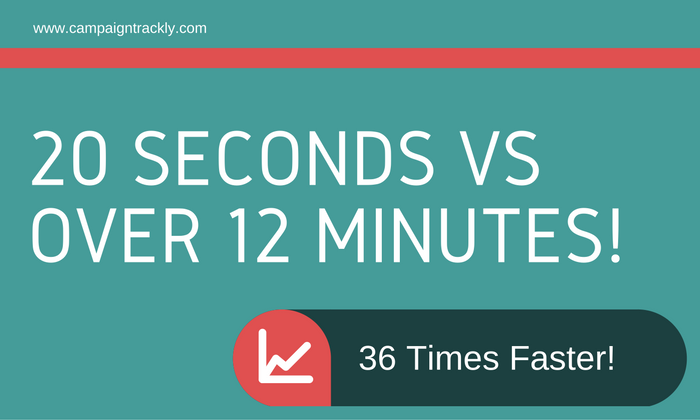 The Math: Why 12 Minutes Are Equal to Losing A Whole Month Each Year 
In the grand scheme of things, 12 minutes don't seem like too much time worth worrying about. 
But make that 130 links if you have to promote multiple social posts, blogs and assets across a much larger number of channels in one day. 
This easily eats up to 2 good hours of your time – daily. If you need to do this 3 times a week, this already covers 6 work hours.
In a year, that's 270 hours or

over a month

 of your precious time that could be spent on much more productive and ROI-focused activities. 
Does this math makes sense? Thoughts?
Thank you for reading this blog and for watching the video. If you have any questions, please tweet us at @CampaignTrackly. 
You Are Only 3 Steps Away from Driving Better Marketing Results