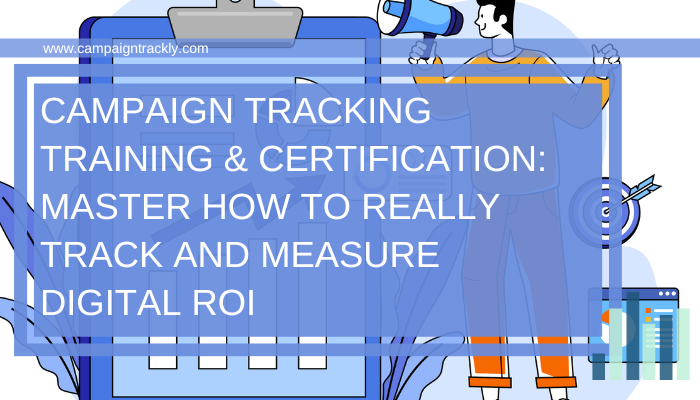 Digital Marketing Campaign Tracking: Best-In-Class Ways to Measure and Optimize
We are super excited to announce our new training and certification series that focuses on digital marketing campaign tracking and helps you generate reliable, consistent customer insights:
How to Build a Best-in-class Digital Marketing Campaign Tracking Strategy
Topics Covered
This training program will help you find answers to questions like:
What digital marketing campaigns require manual tags added to destination URLs
Which three UTM tags does Google Analytics require to provide accurate campaign tracking and reporting
What campaigns require manual tags added to destination URLs
How to REALLY set up campaign tracking and measuring by converting URLs into tracking links
What other tags can be used to provide more granular insights about my website visitors
How to build best-in-class digital marketing campaign tracking process
How to build an advanced digital campaign tracking strategy for effective reporting across owned and paid digital marketing activities
How to prevent bad data quality that prevents us from measuring and optimizing digital ROI
How to showcase the value of our marketing to internal stakeholders, and more.
If you are interested to become a certified pro in creating best-in-class digital campaign tracking strategies, this training course and certification can be of great value to you. Watch out for our announcement – but we generally expect to launch it on Udemy in February, 2023.
View the slides from Session 1, the Digital Marketing Campaign Tracking Overview:
The actual recorded session with text will be made available to registered course takers.
Our Training Approach
We will introduce you to digital campaign tracking within the context of Google Analytics reporting and your business KPIs.
But really, this methodology, can be applied towards any other web analytics tool, because it focuses on best practices and process.
We start by identifying how to track across owned, earned, and paid media, and gradually go deeper into the components and reporting of each tracking parameter and type.
How it Works
The training series has 14 sessions.
Each session covers a key topic that is required for building an end-to-end digital campaign tracking strategy and has a quiz at the end.
A final quiz is administered at the end when all sessions have been completed. You need to be signed up for the course to be able to receive the certification.
The first three sessions are FREE. The course costs $129.99. Existing customers receive 50% discount.
You do not have to take the Certification test. If you do, a certification document will be sent to you upon correct completion of 80% of the material.
You can sign up for the training certification course here and we will send you a payment link with access to the series:
Here is the First Quiz
It covers some of the main takeaways from the first session.
What to Expect Next
Next comes tutorial #1.
Tutorial #1 will delve into why you have to build your tracking strategy with your Analytics suite in mind.
It will cover in detail the UTM_medium tag and how to use it to track your digital channels.
At the end of tutorial #1 we will have a quiz to solidify your learnings.
Questions? Comments? Feel free to drop me a note at support@campaigntrackly.com