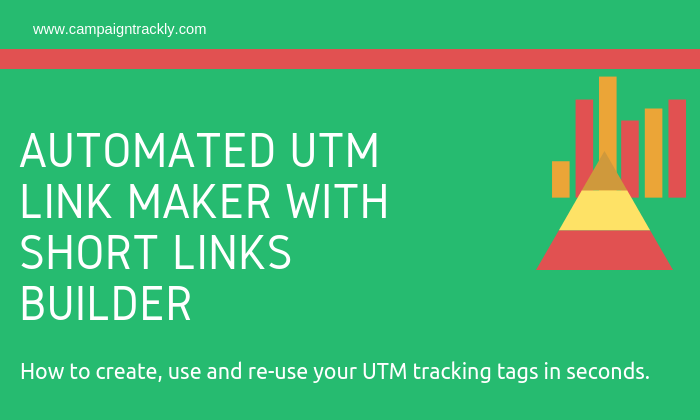 Automated UTM Link Maker with Short Links Builder
Automated UTM Tag and Link Builder Shortens Links via Bit.ly and Short.cm
In this blog I will discuss how to create, use and re-use your UTM tracking tags in seconds with CampaignTrackly's automated UTM tag and link building app featuring Bit.ly and Short.com integration
…links are everywhere. Every click, swipe and tap is a link. Every channel has a link. Even offline, you can use links to track results… By rethinking the link, you can start improving click-through rates, optimizing investment, and building better customer experiences."

Bit.ly, Rethink the Link
Marketing teams today use a growing variety of UTM, as well as, custom tags to track their numerous multi-channel campaigns.
With the increased number of tracking tags comes the need to automate their creation and daily use to achieve efficiencies of scale and consistency in tagging and subsequent performance reports.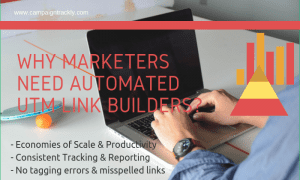 Why Marketers are moving away from Manual UTM tagging and tracking link Building
Manual tagging often is the prime cause for tagging inconsistencies, which results in inaccurate reporting, affecting your campaign KPIs and budget spend. Let's look at these real-life examples to see why that happens.
Inconsistent Tag names:

"utm_source=Affiliate" and "utm_source="affiliate" will be reported by analytics tools as two different sources resulting in incorrect traffic reports by source
utm_campaign="My Blog" and utm_campaign="my-blog" will be reported by analytics tools as two different sources, resulting in incorrect traffic and click reports by Campaign Name

Misspelled Tag names

"utm_campaign=Fall Prmotion 2019" and "utm_campaign=Fall Promotion 2019" will be reported as two different campaigns, affecting ROI reporting and channel performance analysis

Mistyped URL addresses

Mis-typed web page addresses will send people to 404 pages resulting in reduced click-through rates, loss of promotional budgets and underwhelming user experiences
Economies of scale are critical when Marketers have to deal with hundreds and hundreds of links – let's do the math
Marketers are trying to automate their link tagging process in order to achieve economies of scale and save time.
According to Technology Therapy group, a single marketing campaign should ideally run for 45 days, giving you the option to implement around 8 marketing campaigns a year per targeted audience segment per product.
If you are supporting 5 products that each have roughly 3 target segments, this roughly means 8*15=120 product awareness campaigns a year. This number does not include any PR, customer retention, seasonal promos, daily blogging, social media or other specialized short-term campaigns that will also need to be included in the fold.
Each campaign might feature a large variety of pages, blogs, links, social posts, emails, advertising banners, buttons, videos, and promotional channels, which might result in hundreds of tagged links that need to be created and shared over the length of a campaign's life.
Imagine the life of a marketer who has to spend their entire time on nothing but typing and generating tracking links using the manual Google URL Builder or its manual alternatives.
Using CampaignTrackly, you can ensure that you are saving time and achieving the economies of scale and consistencies that will result in effective end-to-end campaign management and reporting.
Here are a few quick benefits to keep in mind if you are thinking of trying our automated UTM tag and link builder:
You start with 20+ pre-set UTM source and UTM medium channel tag values, which you can use, edit, delete or replace with a press of your button

We have also pre-populated for you a set of UTM content and UTM source values, which you are free to use out of the box or edit as well.

If your team already has pre-defined UTM values – you can easily bulk-upload all of them into your account, so you can start using them right away.

You can start tagging in 10 minutes and rest assured that your tracking links are shortened as you tag, thanks to our seamless integration with short.cm and bit.ly.

You can save time with our 35+ productivity features that ensure your tagging is consistent, your links are accurate, and your reports are correct.
Watch this 6-minute video to see how using our app saves you time.
Start tagging today – create an account for free. Any questions, contact us at support@campaign-trackly.com
About CampaignTrackly
CampaignTrackly is a high-productivity app for the next-generation marketers who rely on automation to save time and drive better results.
The app automates the usage and management of UTM, Internal promo and custom tracking tags and empowers marketing specialists, social media professionals and digital marketers to tag their marketing links and shorten them with just a few clicks.
About Short.com
Short.cm empowers organizations to shorten links using their own domain. Using short.cm, marketers can Shorten, personalize and share fully branded ShortURLs with their audience
About Bit.ly
Since 2008, Bit.ly has been committed to optimizing the link so marketers can own the customer experience. Bitly Enterprise enables companies to use branded links, mobile deep linking and effective omnichannel campaign tracking.
This article is about:
UTM Link Maker

URL builders

Campaign URL builder

UTM code builder

UTM code generator

Short URLs UTM builder

google utm builder

utm parameters

utms

utm tracking

utm campaign builder

utm tags

utm tagging