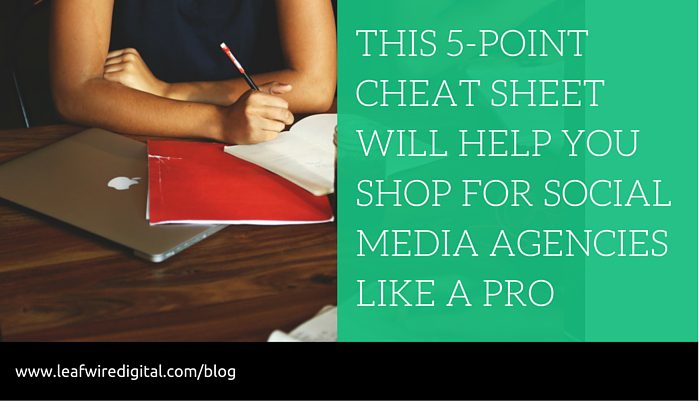 Shop for Social Media Agencies Like a Pro: A 5-point Cheat Sheet
Why you need a cheat-sheet when shopping for Social Media agencies
I have had my share of dealings with social media agencies and what I have found out is that a little bit of checklist prep time goes a long way when evaluating potential candidates – not only because it helps you identify quickly the reliable & knowledgeable ones, but also because it enables you to make an informed decision regarding key operational factors that are not always easy to measure & quantify during the selection process. A checklist makes it easier to navigate through the assessment process. It lets you compare apples to apples by objectively rating your candidates against a list of key criteria that are important to you and your team.
Here is my 5-point cheat sheet that has helped me tremendously when evaluating social media agency candidates:
Social Media Reports Examples and what they are telling you
1. Ask the agency to share a report from a past campaign.
It's Ok if they want to obfuscate customer names and real-life metrics/data. What you are after is the format of the report. Its format will tell you a lot about the agency's level of maturity, experience & knowledge. Ideally, you want to see a PPT deck that provides a well-structured and effective overview of what the campaign is about. The deck should include goals, social channels involved, associated success metrics, as well as the end value that was generated as a result. Be on the lookout for key tell-tale signs such as:
Do they have a slide specifically outlining expected vs. delivered campaign objectives and success metrics (KPIs)?

What metric types are they using " generic or detailed, i.e. clicks and engagements or click types (hash, image view, page click, etc.) and engagement types (RT, Favorites, etc.)?

Are they using generic graphs that'll keep you guessing? Are they offering specific intelligence, which may include specifics such as:

 approached 60 bloggers, successfully engaged 3 who covered the event ,

32 new cloud vendors followed us as a result of the campaign,

engaged 4 key analysts to RT us,

secured 2,000 visits to the landing page,

achieved 1.9% page CTR rates via promoted tweets

Do they have a slide that summarizes the overall paid & organic reach & engagement across all social channels or are they giving you only a partial view of the campaign?

Do they delve into each channel to review what was successful and what needs to be improved next time?

Are they presenting the full picture by showcasing absolute numbers together with % data or are they giving you only one side of the story (i.e. in the image below 500% follower increase in CH is actually 5 new followers altogether)?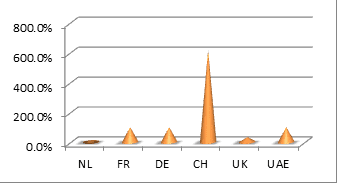 Are they showcasing examples of the most effective tweets/posts, etc. versus the least successful ones, along with recommendations?

Are they including examples of A/B testing, especially for your paid social efforts, along with price/click, targeted audiences match (see example in the image below), etc?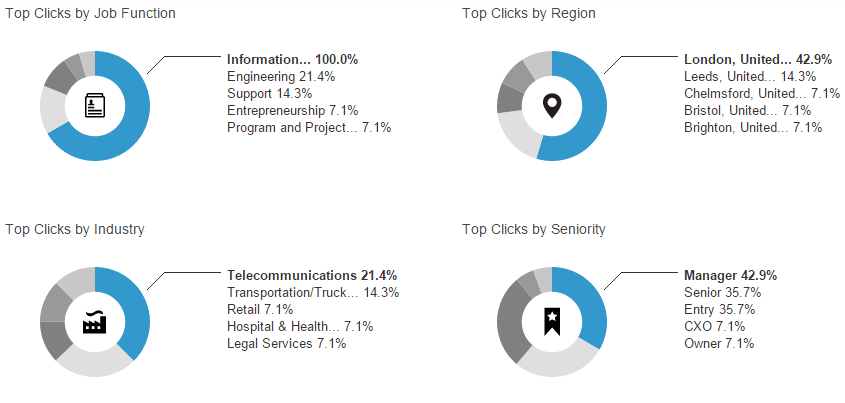 Social Media Game or Campaign Examples
Accessing the agency's tactical expertise – you want a "doer", not a theorizer
2. Ask the agency to show you an incentive/game/campaign that has resulted in a significant achievement and see how they present it.
What you want to find out is how they measure the value that they created and how they present this value to you.
Don't be blindsided by grandiose statements such as This campaign generated 20,000 followers for this customer. Anyone can buy followers these days, and easily. Ask the agency to give you an example of a tweet that generated some of these followers and don't be shy to dig into specifics such as:

How did you break the 20,000 into targeted segments/personas,

Show me tweets that approached 2 or more persona/segment types for this campaign,

How many segments/personas were you targeting,

What did you do next, how did you identify the influencers, the supporters, etc.",

"Did you track what happened to these followers 2-3 months after the campaign", etc.
Why social media campaign failure examples are a good learning experience for you
3. Ask the agency to give you an example of a campaign that was not successful and have them explain why.
What you are looking to find out is if the agency has a structured approach to implementing campaigns, including:

do they have good processes when it comes to working with clients,

how do they manage briefs and deliverable hand-over,

how do they follow up and follow through,

what are their response times,

do they require a lot of guidance and are they quick to blame their customers for any failures,

do they have a good onboarding process that would enable them to integrate themselves effectively or do they expect you to manage that, etc.
Everyone outsources, is your social media agency relying on external staff too?
4. Ask the agency if they outsource some of their work and if they do, ask them to tell you how that would affect key operational aspects, such as implementation times and service quality.
When you are hiring a social media agency, the expectation is that they will become an extension of your marketing department, part of your team. For the synergy to take effect, you need to work closely together. Then you can benefit from their expertise, enjoying faster implementation times and higher ROI on campaigns, and they can gain in-depth industry knowledge and know-how regarding what works well. Most of the times you don't want the agency to outsource critical activities because that might affect negatively the quality of their work, response times and the relationship overall.
Processes, processes, processes…
5. Ask the agency to show you examples of best practice documents they use daily.
Daily operational documents along with briefs and the deliverables associated with them, including actionable Twitter or LinkedIn calendars & schedules featuring copy, tracking links, hashes, content (PDF, landing page, video & image), and campaign plans are a good indicator that this company is focused on productivity, able to operate in a lean and effective way, and has the expertise you need to guide you through your social media daily ops routines.
Ask them to share the names of the tools & analytics platforms they use to measure campaigns and how they intend to link those to your CRM or automation tool.
The goal here is to assess how focused, organized, and experienced the company is when it comes to the actual hands-on work of converting briefs into real-life tactics, plans into actionable to-dos, problems into solutions.

Additionally, you want to be assured they have a good analytics team that will provide you with an effective data-centric approach to making decisions and improving the ROI of your Social Media presence.
Conclusion
While it is by no means exhaustive and there are probably many more ways to assess if the social media agency you are evaluating has what it takes to deliver the results that you need, this 5-point approach has worked for me as it has taught me a lot and has enabled me to make some good hiring decisions, so I thought I would share it here as it could be of help to you too. Let me know if you have any questions or comments " I will be more than happy to chat.