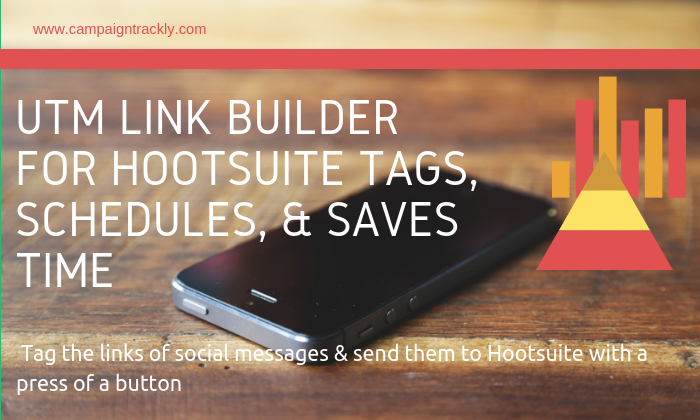 UTM Builder Tags Links and Bulk-schedules Messages in Hootsuite
Multi-tasking UTM Builder App Tags and Shortens the URLs of Social Messages, Then Bulk-schedules Them in Hootsuite with a Press of a Button.
In this blog, I will show you how to Use CampaignTrackly's UTM Building app to upload your Daily or weekly social schedule, bulk-tag all your links and send the schedule to Hootsuite's Publisher with a click of your mouse.
Social Media has become a pretty quantitive discipline, where social marketers need to plan their daily schedules down to the minute to ensure they are engaging the right followers at the right time.
With so many social platforms, different user behaviors and engagement patterns, tagging the links of social messages has become critical to the accurate tracking of social campaign KPIs and identifying top converting content and calls to action.
UTM Link Builder for Hootsuite Bulk Messages
With the increasing need to tag every message and every link in an effective and expedient way, social marketers are consistently on the lookout for UTM building tools that can do so much more than just add tags to links.
UTM Tag and link generating apps that can integrate easily with URL shortening software, reporting dashboards, spreadsheets, and Social Media platforms are becoming the focus of a growing number of social media specialists who value their time.
Since Hootsuite is one of the most popular social media scheduling and calendaring tools on the market, businesses of all sizes are turning to them to organize and manage their social media activities.
And for busy social marketers managing multiple social platforms and having to build multiple complex social schedules, Hootsuite's Bulk Scheduler is a life saver.
How CampaignTrackly Can Help Hootsuite's Bulk Schedule Users Become More Productive and Efficient
CampaignTrackly integrates with Hootsuite in a new and unique way to add a new layer of productivity to the social scheduling and calendaring process. It allows users to bulk-upload their daily or weekly schedule into the UTM Building app and then add tracking tags to all their URLs in seconds, using a few quick drag-and-drop actions.
Once the links are auto-tagged and shortened, the user can instantly send their schedule straight to Hootsuite. The messages can then be seen in the Publisher's calendar, ready to be shared at the date and time that has been pre-defined by the user.
Watch This 5-minute Video to see How CampaignTrackly and Hootsuite Work Together to Save You Time
Start tagging today – create an account for free. Any questions, contact us at support@campaign-trackly.com
About CampaignTrackly
CampaignTrackly is a high-productivity app for the next-generation marketers who rely on automation to save time and drive better results.
The app automates the usage and management of UTM, Internal promo and custom tracking tags and empowers marketing specialists, social media professionals and digital marketers to tag their marketing links and shorten them with just a few clicks.
About Hootsuite
Hootsuite is a social media management platform, created by Ryan Holmes in 2008. The system's user interface takes the form of a dashboard, and supports social network integrations for Twitter, Facebook, Instagram, LinkedIn, and YouTube.  Hootsuite empowers its users to safely engage audiences on multiple networks, prove their social ROI, and share insights across teams—all on a single social media management platform.
This blog is about:
UTM Builder

UTM Link Builder

UTM Tag and Link Builder

UTM Builder Shortens Links
UTM Builder for Social Media
Bulk UTM builder for Social Media

UTM Builder for Hootsuite Bulk Messages

Bulk UTM code generator for Hootsuite

UTM Builder for Hootsuite Publisher

Bulk Link Builder for Hootsuite

UTM Link Builder and Bulk Scheduler

Social Media Scheduling
Social Media Calendaring