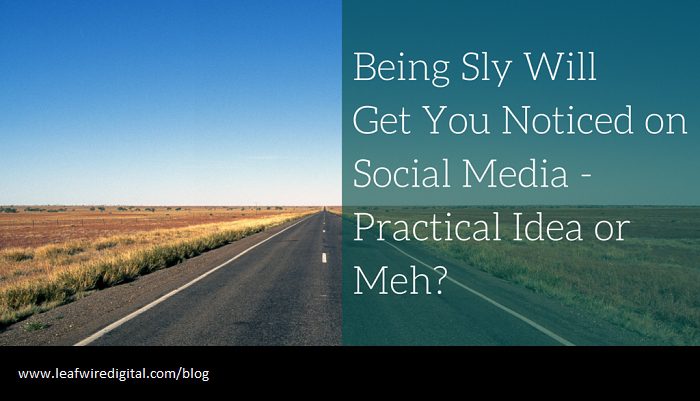 Being Sly Will Get You Noticed on Social Media – Practical Idea or Meh?
So I was reading Guy Kawasaki's awesome book, The Art of Social Media, the other day and one of the more valuable pieces of advice that Guy is kind enough to share with his readers is about being 'sly'. Yes, SLY. It's on page 50 under practical tip #30.
"I find posts that are titled How to…, Top Ten…, or The Ultimate… irresistible. These words say to me, This is going to be practical and useful.. So be sly and use it.1
Why I loved this piece of advice? Because he doesn't actually tell you to be sly-sly. All he does is to show you how to craft your social posts and blog titles in a way that would communicate instantly the value they are offering.
And indeed, considering that our social streams get avalanches of tweets by the hour, being able to demonstrate value is a key differentiator if one wants to stand out and offer really useful information to his/her followers. Because let's face it – " Social is all about clout and how many people are following you.
I have seen first-hand that numbers matter a lot, especially when you are competing for a share of your target audience's interest on the hashtag of a large event, for example. It is no secret that whenever a large international event is taking place, it's an all-hands-on-board situation for every social team. And the competition is loud and uncompromising because in today's day and age it takes seconds and a quick login to a tool similar to http://keyhole.co/ to get the stats on who is the top influencer on the event's hash and whose social team is on the losing side of things.
So I like how Guy gives you specific examples of what really works – ultimately what we all want is proven advice that can help us take a step further and continue to hone our social skills so that we get better and better at our jobs.
Here are Guy's top 10 winning title starter suggestions:
How to Rock…
Quick Guide…
A Complete Guide to…
Questions You Should Ask Before…
Rules for…
Essential Steps to…
Most Popular Ways to…
Tips for Busy…
Tactics to…
What No One Tells You About…
The best thing about his advice is that he doesn't stop at #10. His book actually offers a list of 74 templates and I think this is awesome because, well every single one of them rocks!
I would like to add my top title starter picks too… :
Amazing .. To Try Right Now
How to Tell if.
# Rules for..
# Best Ways to..
# Reasons You Didn't Get.
Are you a fan of Social Media post/tweet/title templates and if yes, would you like to share some of your favorite ones that work?
——————————-
1From "The Art of Social Media" by Guy Kawasaki and Peg Fitzpatrick