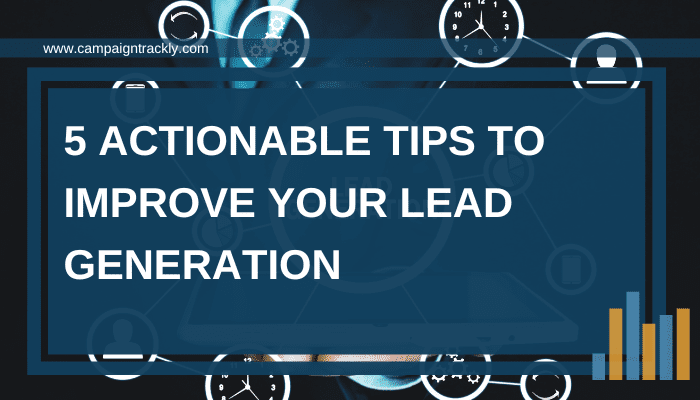 5 Actionable Tips to Improve Your Lead Generation
By Andy Redan
Generating high-quality leads is one of the most vital parts of a successful sales process – you need to bring in potential customers and then turn them into paying ones to ensure that your business stays afloat. It's a complex process that involves a lot of factors, and you need to master all of them to make it work for you.
However, lead generation doesn't have to be nearly as complicated as it sounds. In fact, there are plenty of ways to simplify the process and make it easier for you to get the leads you need in a more efficient manner.
Read on and learn how to take your lead generation to a whole new level!
Consider Hiring an External Agency
As mentioned above, lead generation is a complicated and time-consuming process, and you need to be very careful while handling it. If you feel like you can't do it properly on your own, there's no shame in admitting that and seeking outside help. Hiring a digital marketing agency that provides a lead generation service for B2B businesses is a great way to streamline your lead generation without putting extra strain on your team.
It's also an excellent option for small businesses that don't have the labor force or enough time to handle the whole process in-house, and it can give you access to tools, resources, and strategies that would otherwise be out of reach.
Before you decide on the company you want to work with, do your research and ensure they're the right fit for you. Check out their website and request more information about their services and portfolio. If they have a solid reputation in the industry and can provide a detailed breakdown of their services and pricing, you can rest assured that you'll be in good hands.
Leverage Social Media
Social media is a powerful tool that can be used for a variety of purposes, and lead generation is definitely one of them. Once you've identified your target audience and know what they want, you can reach out to them via multiple social media platforms and generate the leads you need.
There are a few different ways to use social media for lead generation, but it all comes down to finding the right platform for your needs. For example, if you're targeting business owners, LinkedIn is the way to go. On the other hand, if you're trying to reach out to millennials or Gen Z consumers, Instagram or TikTok will probably be a better fit.
Once you determine the most suitable platform, focus on directing your audience to your website to generate leads. You can use a variety of tactics to do that, such as running ads, sharing blog posts and articles, or hosting informative webinars and podcasts.
Prioritize High-Quality Leads
Not all leads are created equal, and you need to be very careful when choosing which ones to pursue. You might be tempted to go after each and any lead you can find, but that's not always the best approach.
Focus on generating high-quality leads with a higher chance of converting into sales. There are a few different ways to do that, such as conducting market research or creating buyer personas. Once you know what your ideal customer looks like, you can create targeted ad campaigns that will reach the right people and help you get the leads you need.
Remember, 200 leads that are very likely to convert are much more valuable than 1000 that have little interest in your product or service.
Improve Your CTAs
One of the most critical elements of a successful lead generation strategy is your call to action (CTA) – the message you're using to reach out to your target audience and encourage them to make certain choices.
Your CTAs need to be clear, concise, and attention-grabbing if you want them to be effective. You also need to ensure that they're relevant to the content you're sharing, as that will make it more likely for people to act on them.
Avoid plain text CTAs, as they can often get lost in the sea of content on your website or blog. Instead, use eye-catching images, videos, or infographics to make your CTAs stand out and grab attention.
Optimize Your Landing Page
Your landing page plays a crucial role in your lead generation strategy, as it's often the first thing potential customers will see when they click on your CTA. That's why you must ensure that it's optimized for conversion and offers a great user experience.
Start by checking if your landing page is mobile-friendly, easy to navigate, and fast-loading. Try to limit the amount of text if possible – this will make it easier for people to scan the page and lower the chances of them getting bored and leaving before they reach the bottom.
Using bullet points and headlines is a great way to break up the text, and you can also add animations, videos, and other forms of visual content to make your page more engaging.
Conclusion
Lead generation is a complex process that requires a lot of effort and planning, but it can be made more efficient with the right approach. Keep these tips in mind, and you'll be able to take your lead generation strategy to a whole new level, which is sure to give your business a big boost!
Remember that these tips are merely the tip of the proverbial iceberg and that lead generation is a constantly-evolving process that you need to stay on top of. To achieve long-term success, you have to regularly review your strategy – after all, what works today might not work tomorrow. Good luck!
This article is a guest blog written by:
Andy Redan