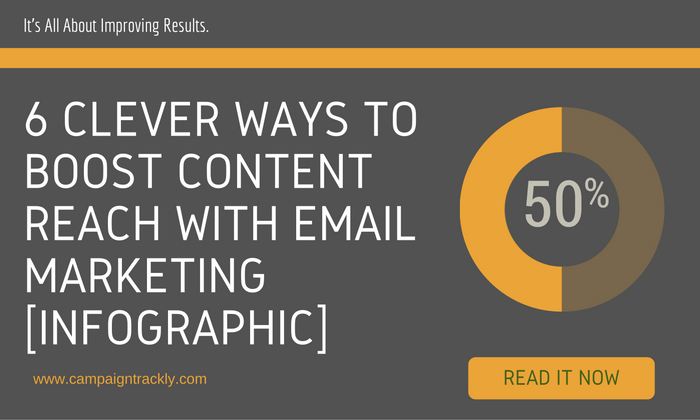 6 Easy Ways Email Marketing Can Increase Content Strategy ROI
In this blog you can find six easy ways email marketing can increase your content strategy ROI. We will be sharing an infographic plus a brief companion guide to show you how to repurpose and promote content using email marketing.
Continue reading or View Infographic Now
Are you looking for ways to boost your content exposure? Do you need more traffic to your website or blog?
Turn email marketing into a standard content distribution channel
Adding email marketing as a must-have distribution channel for your blog or promotional materials is a very cost-effective way to stay in touch with prospective buyers & keep the conversation going. It also helps maintain long-term relationships with customers and evangelists. Email consistently ranks as a top marketing strategy, delivering the highest ROI, regardless of business type and size.
New marketing content
Try this simple & clever strategy – every time you create a new piece of content, make sure that you also promote it to your email subscribers who have shown interest in the topic. You are 6x more likely to get a click-through from an email campaign than you are from a tweet, according to Campaign Monitor. Additionally, MarketingSherpa states that more people prefer to receive promotional content through email, than on social media.
 Existing marketing content
If you haven't had any new blogs, e-books, or infographics coming your way lately, turn to your all time favorites or leverage your analytics tool to uncover valuable brand or product-promoting content that needs the extra push.
 Evergreen content
Evergreen content is proven to have long engagement potential and is a really cost-effective way to give your content strategy traffic goals a guaranteed boost. The best thing about this approach is that your ROI is extremely high because you are re-purposing and re-using everything – email templates, existing marketing materials, etc.
Other content
Other content includes assets that can offer great value to your audience, but didn't do quite well in terms of generating interest the first time around. This content should be given a second chance – adding it to an email that goes out to very targeted groups is a sure way to get more traffic to it. Personalizing your messages and tailoring the content to your contact's preferences is a good way to increase performance and generate the results that you need.
According to eConsultancy, 74% of marketers say targeted personalization increases customer engagement. Also, your email subscribers are 3 times more likely to share your content via social media than visitors from other sources based on this article by QuickSprout.
Here are 6 content types that you can promote successfully via email.
1. Customer testimonials
They work really well for prospective customers/leads who are in nurture (these are the contacts who are getting to know your company and your product/solution). They offer an independent and unbiased opinion about your brand and quality. Sending them to your warmer leads will be an excellent way to get validation and gain more trust.
2. Case studies
They help prospects understand how your product or service has solved a problem that is similar to theirs. Case studies are a great way to provide context for your leads and let them gain more understanding about the features and capabilities of your offering.
3. Videos
They have the power to convert leads faster because they showcase what your product can and will do.
4. White papers
They have a very high conversion value simply because they offer valuable educational information and provide expertise that the prospects are most likely lacking.
5. Research or statistical analysis
This type of content is very important because it enables your target audience to benchmark against their peers or competitors, and to learn more about important industry trends and development.
6. Infographics
They are popular because they offer a lot of information in a condensed and visually appealing way.
For a more detailed look at using email marketing to boost the performance of your content strategy, have a look at the infographic below:
Infographic