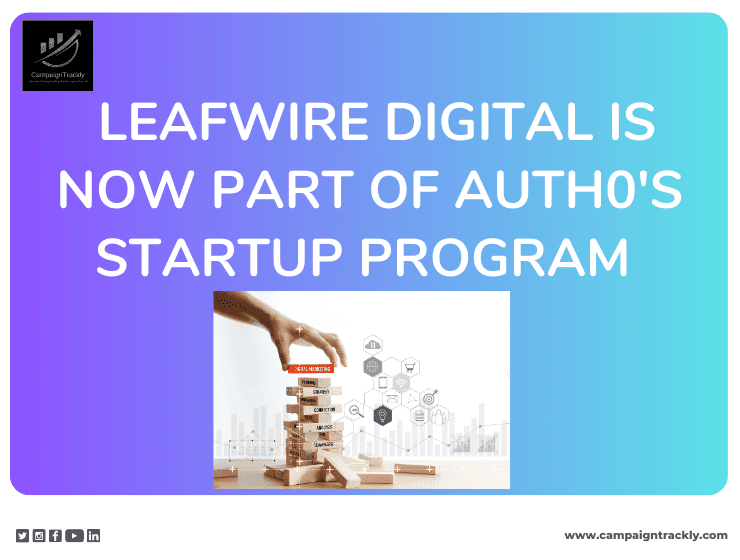 Leafwire Digital, Inc. Chosen By Auth0 as a New Addition to their Startup Program
FOR IMMEDIATE RELEASE: 2023-03-22
Milena Mitova
Leafwire Digital, Inc.
(609) 200-0194
support@campaigntrackly.com
CampaignTrackly Is Now Part of Auth0's Startup Program Ecosystem
Auth0 for Startups brings the simplicity, extensibility, and scalability of Auth0 to CampaignTrackly's Platform
(Wayne, NJ) March 22, 2023 – Leafwire Digital, Inc. today announced that it has been accepted into Auth0's Startup program, which will enable CampaignTrackly's customers to have secure and frictionless experiences when logging into the tracking link management platform.
The startup program that Leafwire Digital has been accepted in supports up to 100K monthly active users utilizing social, database, passwordless and custom connections. It includes the use of up to 5 enterprise connections, provides up to 100 organizations under the 'organizations' feature, and supports External Databases, Custom Domains, Pro MFA, and Enterprise Integrations..
The partnership with Auth0 comes amid the company achieving several key milestones. Leafwire Digital was selected as one of 1,000+ applicants into Newchip's global accelerator program. It was accepted into AWS' startup program and has recently added a number of new features to its flagship product, CampaignTrackly, including GA4 integration, tracking campaign templates, API extended connectivity, and more.
"We are super excited to be a part of Auth0's startup ecosystem. It will enable us to migrate from local solutions into a best-in-class user and API authentication set of features including SSO, MFA, and universal login to meet our customers' security needs. We are on a mission to provide our customers with top digital insights tracking link operations, and security is a critical part of our subscription platform, " says the company's CEO, Milena Mitova.
###
About CampaignTrackly
CampaignTrackly is a top-rated SaaS platform helping marketers measure digital performance and ROI by converting regular URLs into insights-driven tracking links. Featuring an automated campaign url builder and a centralized place to house and manage all marketing tracking links, it enables businesses to build best-in-class performance tracking strategies and generate consistent actionable insights without delay. The platform has over 65 automation features, removing manual operations and eliminating human error. It offers free, professional and enterprise subscription plans, enabling performance-driven businesses to onboard quickly and implement robust governance and sustainable tracking processes in a manner of days. Some of CampaignTrackly's most popular functionalities include their Chrome and Edge extensions that enable auto-tagging of email links, a link shortener with deep targeting options, an API, link processing in bulk, a QR code auto-generator for mobile, desk, and print — and their state-of-the-art dynamic tracking tag library with unlimited tags and templates. To learn more, visit https://www.campaigntrackly.com.
About Auth0
Auth0 by Okta takes a modern approach to customer identity and enables organizations to provide secure access to any application, for any user. Auth0 is a highly customizable platform that is as simple as development teams want, and as flexible as they need. Safeguarding billions of login transactions each month, Auth0 delivers convenience, privacy, and security so customers can focus on innovation. For more information, visit https://auth0.com.
About Okta
Okta is the leading independent identity provider. The Okta Identity Cloud enables organizations to securely connect the right people to the right technologies at the right time. With more than 7,000 pre-built integrations to applications and infrastructure providers, Okta provides simple and secure access to people and organizations everywhere, giving them the confidence to reach their full potential. More than 14,000 organizations, including JetBlue, Nordstrom, Siemens, Slack, Takeda, Teach for America, and Twilio, trust Okta to help protect the identities of their workforces and customers.