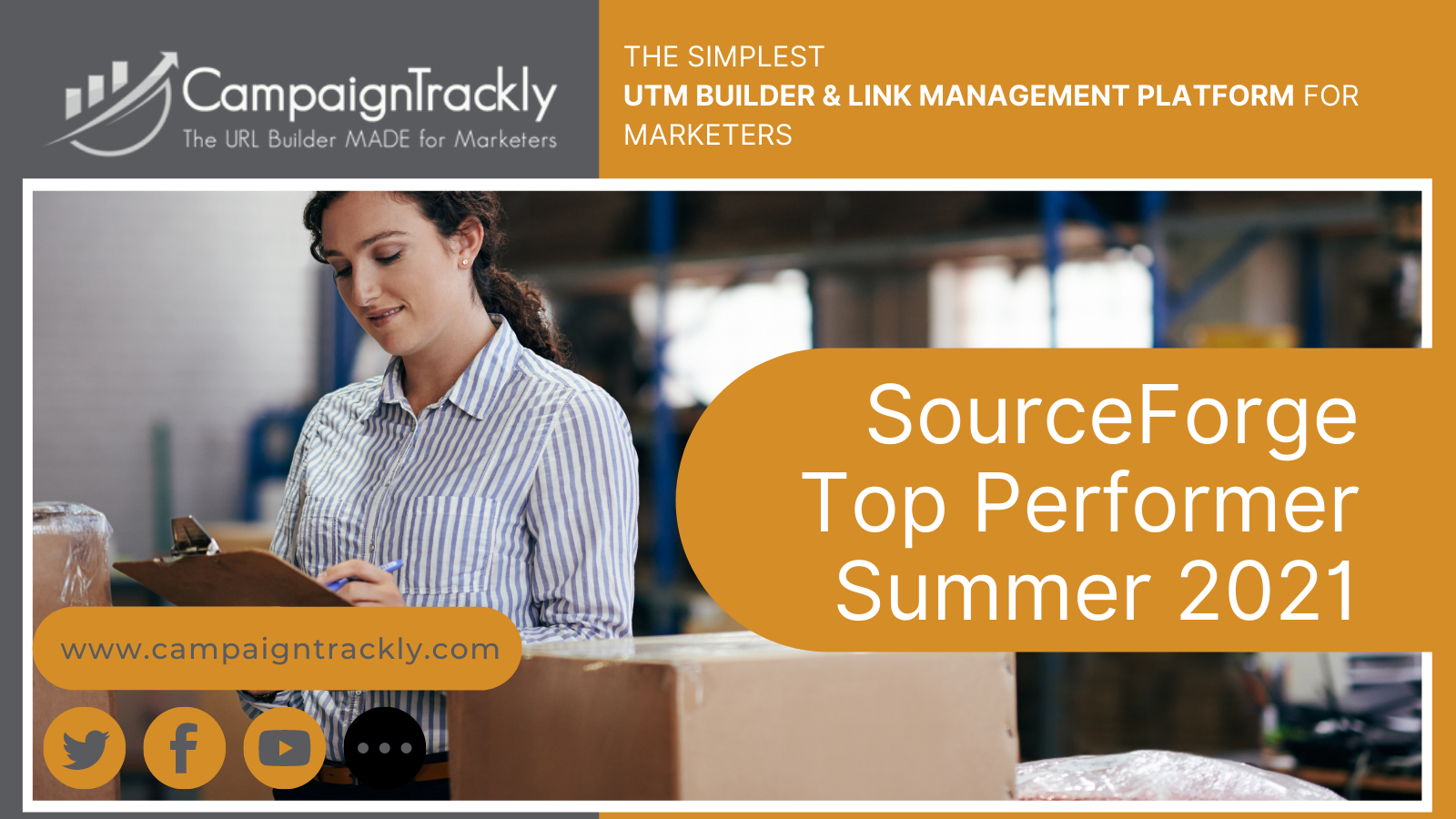 CampaignTrackly Wins a 2021 Top Performer Award in Summer 2021 From SourceForge
CampaignTrackly has reported today that it has won a 2021 Top Performer Award in Summer 2021 From SourceForge
CampaignTrackly by Leafwire, Ltd. is honored to be recognized as a Top Performer by SourceForge, the world's largest software reviews and comparison website.
2021-07-15, Parsippany, NJ – CampaignTrackly, the simplest UTM link building automation platform for marketers, today announced that it has been awarded a Summer Top Performer Award by SourceForge, the world's largest software review and comparison website. This award recognizes companies and products with a significant amount of recent favorable user reviews that puts them in the top tenth percentile of highly reviewed products on SourceForge.
To win the Summer 2021 Top Performer award, each winner had to receive enough high-rated user reviews to place the winning product in the top 10% of favorably reviewed products on SourceForge, which demonstrates the utmost quality that CampaignTrackly delivers to customers.
"It's my pleasure to announce the Summer 2021 Top Performers on SourceForge. CampaignTrackly has been named a Top Performer this Summer in the Campaign Management and Web Analytics categories, and their great user reviews are a proof of the quality solution they provide to their users. Congratulations on the award and keep up the good work." Logan Abbott, President, SourceForge
CampaignTrackly's mission is to help SMB and enterprise customers make better marketing decisions by enabling them to drive higher quality data into their analytics and reporting in a productive and cost-effective way.
"At CampaignTrackly, we're excited to accept the SourceForge Summer 2021 Top Performer Award. We do our best to provide a best-in-class software-as-a-service, and we're happy to see our users rewarding us with good reviews. We're honored to be valued by our customers and to be recognized by SourceForge" Alexander Mitov, President, CampaignTrackly
The platform has grown from an unknown startup to a solid performer with over 2,500 B2B customers.
"We are so glad that our customers appreciate what we do to help them drive insights – we work hard to optimize the Campaigntrackly experience and to hopefully push the industry forward". Cassiopeia Alexandrova, Social Media Manager
About CampaignTrackly
CampaignTrackly is a SAAS-based platform which automates the process of adding tracking tags to digital links.
The platform enables businesses to build a centralized, consistent and standardized link tracking strategy in a simple and cost-effective way.
It removes ambiguities, simplifies processes and empowers marketers to be in control of their campaign setup and reporting process without the need to use IT code or manual operations.
Its ease of use promotes consistency and high adoption rates among platform users, resulting in enhanced insights into the customer journeys and marketing budget spend, which in turn, helps businesses optimize their promotions to increase revenue streams.
About SourceForge
SourceForge.net is the world's largest software comparison directory, serving over 30 million users every month and featuring user reviews, product comparisons, software guides, and more. SourceForge's mission is to help businesses find the best software to fit their needs and their budget. There are a variety of software tools available to businesses, and there are tools in almost every category and niche, each serving a slightly different purpose.