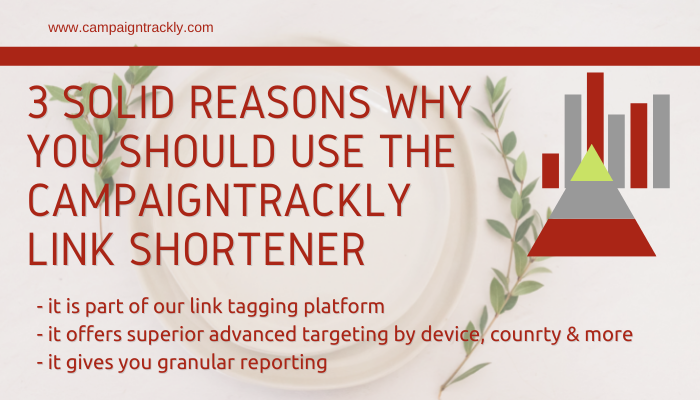 The CampaignTrackly Link Shortener – Three Solid Reasons To Start Using it Today
In today's blog we will cover the CampaignTrackly Link Shortener. We will share with you three solids reasons why you should be using it – if you are already using our UTM link tagging platform – and why it is really great for you.
Why Marketers Use Link Shorteners.
URL Link shorteners go hand in hand with link tagging processes, because they are part of how you prep your marketing digital links to be shared on your promotional channels and tracked for performance.
All social media channels and most of the other promotional digital channels leverage short links for space and utility considerations.
Many marketers are forced to tag their links in one place and then carry the tagged links to another platform/tool to get them shortened.
Challenges with this process:
Too much manual work
Jumping between tools
A process which is vulnerable and open to errors
Too many touch points for something as simple as tagging and shortening links.
The CampaignTrackly Link Shortener Advantage for Our Customers
At Campaigntrackly, we have our own homegrown link shortener which seamlessly integrates with our UTM link building wizard and reporting capabilities.
Here are three solid reasons why you should use ctrly.io if you are already using our app.campaigntrackly.com tagging platform:
Ctrly.io is activated automatically as you create an account with our app.campaigntrackly.com web app – no extra account management, fees, contracts, or platforms to juggle.
When you create an account with us, your Ctrly link shortener account is also activated immediately. All you need to do is define it as your default shortener and you are set and ready to go. Here are the benefits that this setup offers:
No extra costs – link tagging and shortening become a seamless experience
No extra platforms to manage or contracts to pay/update
No extra steps to get things started – just set it as "default" and forget it.
Ability to add your existing short vanity domain via a simple email to our support team at no extra charge.
2. Ctrly.io offers a simple tagging + shortening experience plus extra granularity for your audience targeting – in a single platform.
When you start creating your digital links, we give you a lot of flexibility in how you can target and measure the performance of your links.
You can decide to add a special alias to your link with a few single clicks (no extra charge).
You can define link expiration date
You can add a password
You can define link variation based on the country or countries you are targeting for your promotion
You can also specifically track your audiences by device – tablet, iPhone, etc.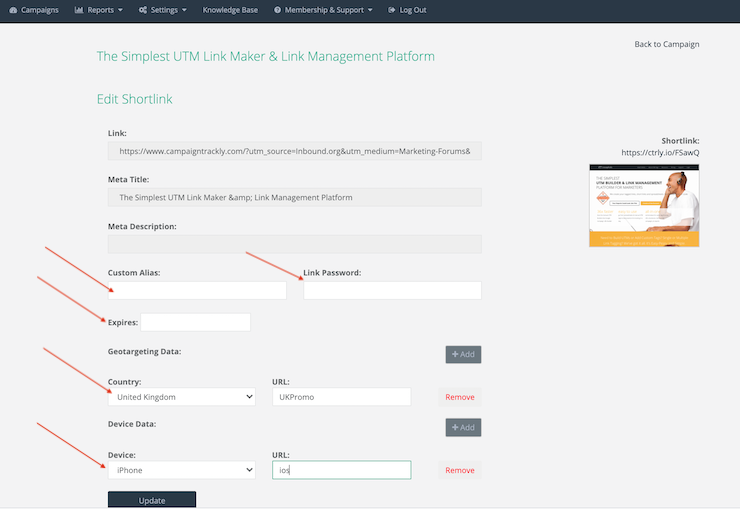 All of these features are available to you as you are creating your tracking link in our app, so the process is simple, quick and automated.
3. Ctrly.io gives you extra granularity when it comes to reporting the success of your campaigns.
Once you share your digital links across your promotional channels and traffic starts coming to your promoted pages, Ctrly gives you great visual representation of what is happening with your links. The report is instantly available to you via the Ctrly tab at your Campaign page level. It nicely completements your GA report – if you have connected Google Analytics to our platform.
It also provides better and clearer visuals as you can see your audience on our world maps.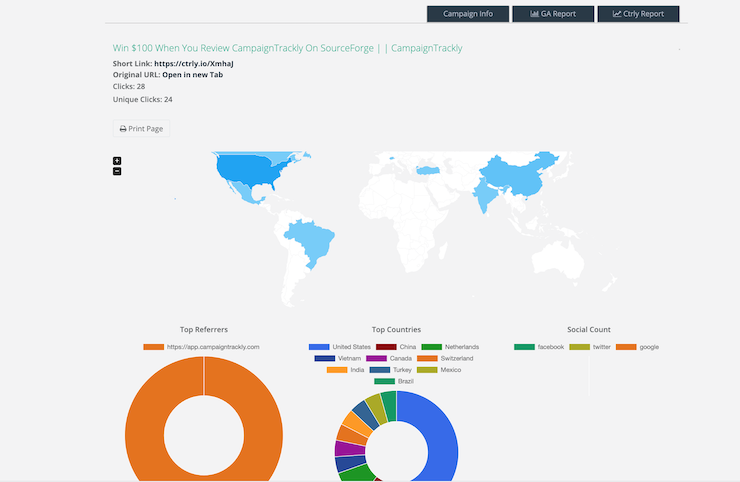 In addition to individual-level campaign reports, you can also use our cumulative Ctrly reports available on our Reports pages, to receive a full, all-encompassing view of how all your promoted links perform for a certain period of time.
All these features are meant to shorten your digital campaign production cycles while giving you extensive flexibility in decidng how you want to track and target your audiences.
We hope that these features are helpful to you. Should you have any questions, as always, do not hesitate to contact us at support@campaigntrackly.com
Conclusion
In conclusion – we hope that the extra features that our CampaignTrackly link shortener offers to our customers will empower everyone trying to understand better their customers to seamlessly and quickly set up link tracking across all your promotional digital channel, while enjoying accuracy and minimal amount of manual work.
Our mission is to simplify our customer user experiences when it comes to link tagging and tracking, so we are absolutely happy to accept any new feature suggestions and will even reward customers for their ideas!
From your fans,
The CampaignTrackly team